[caption id="attachment_788" align="aligncenter" width="618"]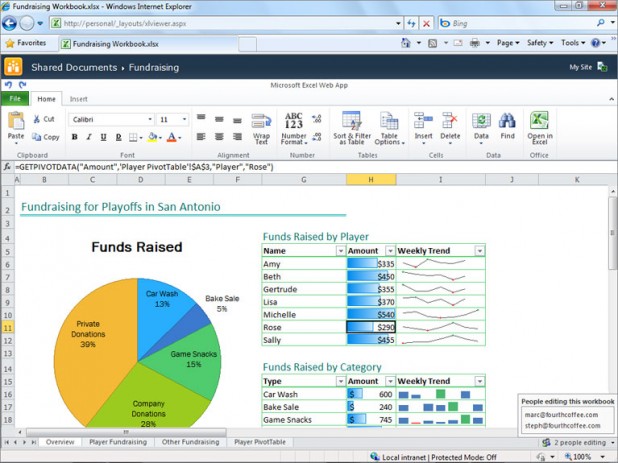 Office 365 is Microsoft's big foray into cloud productivity.[/caption] Microsoft says that Office 365 will define the next generation of productivity. The cloud-based software platform consolidates Microsoft's messaging, collaboration, and productivity software—without the issues associated with on-premises deployment. For those companies that decide to take the plunge, here are the top eight ways to prepare for Office 365:
1. Clean House
The first thing you need to do before starting an Office 365 migration is clean up your (digital) house.
Fix your Active Directory – run a health check and make sure your AD objects are all in good shape.
Disable, delete, or archive users, OUs, mailboxes, Public Folders, and SharePoint libraries and sites.
Make lists of what content needs to move, and what you can ignore.
The better you clean up and prepare for your migration the easier it will be. Less content to move equals less migration time—and less opportunity for error.
2. Know What You Need
Ask the hard questions before you engage in your migration project. Here are a few to get you started:
How do we prepare?
Are there compliance or regulatory issues to consider?
Is my data secure, and where will it be stored?
How do we buy Office 365, and are there discounts if we have existing licensing agreements?
What skills will be required for the migration? And afterward?
Can we perform the migration on our own, or will we need help?
Take the Boy Scout motto to heart: Be Prepared. Migrations can be complex. Without sufficient consideration and planning, your experience won't be the one you want.
3. Learn About the Cloud
Some things just work differently in the cloud. Your users should understand how their daily activities will change as a result of moving to Office 365.
Microsoft training videos
and extensive training resources are available to help both users and administrators get up-to-speed quickly. Here just a few of the things you should know about Office 365 before you get started:
All of your e-mail is stored in the cloud. You'd think this would be obvious, but people only see their Outlook client and don't really think about it. This makes it easy to consume anywhere, but changes how you manage and access your services.
Recovering accidentally changed or deleted items is different than with an on-premises solution. Users can access the Recover Deleted Items feature in Outlook. Administrators have access to additional tools, but the default retention policy in Office 365 only keeps deleted items for 30 days.
The Small and Medium Business Office 365 plan (P1 for $6/mo) only offers community-based support. This can be an issue, especially for an SMB that requires assistance during a migration. I recommend everyone look at the enterprise packages (starting with E1 for $8/mo) for the phone support if nothing else.
4. Document, Document, Document
It's incredibly difficult to design an e-mail solution when you don't know the nature of your assets at the start. I've yet to come in to a client that has prepared e-mail flow diagrams. It's such a simple thing, and makes so much difference, it's really a must. A typical one might show how e-mail enters the network, is processed by the Exchange server, and then how users connect to the mailbox server to retrieve their e-mails. Make another version that shows how e-mail functions after the migration as well. Here is some other documentation you should create:
Lists of e-mail and related servers and network components
A short description (500 words or less) of how your e-mail system functions
List any applications or devices using MAPI or SMTP to relay e-mail through Exchange
LAN and WAN network diagrams
List and gather your public secure web (SSL) certificates
List your e-mail DNS MX and A records—both internal and external
Gather settings and requirements for encryption, footers, archiving, etc.
The more of this you gather before you start, the less discovery you may require during the project.
5. Get Good Tools
Having the right tools when you need them can make the difference between a smooth migration and a difficult one. Here are some of the tools that can help you prepare for, test, and perform your migration:
Deployment Readiness Tool: Performs pre-migration checks on your Active Directory and environment.
Get-ExchangeEnvironmentReport: Creates an awesome HTML report of your legacy Exchange system.
Office 365 Speed Test: Tells you how good your connection to Office 365 is and whether you should upgrade your internet before your migration.
Exchange Connectivity Test: Many very useful tools for testing external access portions for both Exchange and Office 365.
Third-Party Migration Tools by Metalogix, MetaVis, Migration Wiz, Quest and others: Each has its strengths and weaknesses. Microsoft partners extensively with Migration Wiz, but you should evaluate which has the right pricing and features for your needs.
6. Know Requirements and Limits
I won't go through the full list of requirements—just know that you'll need to be on a recent Windows operating system, Microsoft Office and browser versions. You can review the full list online. Don't just assume it'll work… you may need to perform some upgrades first. To ensure a good, consistent experience across thousands of customers, Microsoft had to place some limits on how the service is used:
Mailboxes are limited to 25 GB of storage unless you upgrade your plan.
You can e-mail a maximum of 1,500 recipients (total, not unique) per day.
E-mails can be a maximum of 25 MB in size, including all content and attachments.
There are no public folders in Office 365. Yes, it's time to move to SharePoint.
Speaking of SharePoint, you'll get 10 GB of space plus 500 MB per user of shared storage.
There are limits on each of the services, but the aforementioned are the most important. Review them before you sign up for Office 365 to ensure it's the right solution for you.
7. Choose Your Migration
There are four primary types of Office 365 migrations:
IMAP cutover: E-mail is extracted from the source mail system by IMAP, DNS MX records are changed, and workstations configured to connect to Office 365. E-mail is moved, but no contacts and calendars.
Exchange cutover: Same as IMAP but it uses RPC over HTTPS (Outlook Anywhere) to extract your entire mailbox from a legacy Exchange e-mail system (2003 or later only).
Staged coexistence: Similar to an Exchange cutover, but allows for batches of users to move at a time and for the two systems (Exchange and Office 365) to interoperate over a period of time.
Hybrid coexistence: This solution is intended for customers who require onsite and cloud e-mail systems to coexist for longer periods. Active Directory and Office 365 synchronize and single-sign-on is set up. This is the most technically complex migration method but makes for the easiest mailbox migrations, simply using the existing Exchange Management Console's commands.
Every migration looks different, but the methods above should provide a good experience for most customers. For those that need additional choices, third-party migration tools may offer a better solution.
8. Get Good Help
Migrations can be technically complex, and transitions are a time for IT professionals to deliver their best performances. Office 365 migrations require a number of skills balanced across several technical disciplines. As a result, a team of professionals is often required. Some of the skills you'll need to have on-hand for this type of project include:
LAN & WAN Networking
Secure Certificates & DNS
Voice (for Lync)
Exchange
Desktop Support
Active Directory (DirSync, ADFS, SSO)
Project Management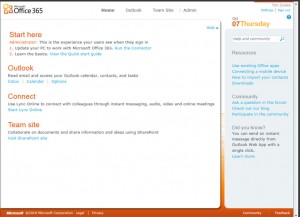 Putting a team with these capabilities together may be difficult, especially in smaller organizations. This is where consulting organizations come in. Microsoft Partner companies that specialize in cloud services can provide all of these skills along with the experience of performing many migrations over a wide variety of customer types. This experience manifests in the development of best practices that assist in smooth transitions and a better overall experience for the client as well. Getting help is easy. Getting good help is harder. You can start at
Microsoft Pinpoint
, a site that provides an easy search engine for finding qualified assistance in any number of areas. For help with Office 365, look for the Business Need section and choose "Cloud Computing." From there you can type in your zip code or city name and pull up a list of local or nearby IT companies. Once you have your list in hand, check them out:
Companies that provide cloud services should have clear and concise websites that describe their offerings.
Look for their credentials. These may be listed in Pinpoint or on their website. Specifically, look for Microsoft Cloud Accelerate Partners. These partners must move a minimum number of Office 365 seats per year to qualify… and that sort of experience is what you're looking for.
Check their references. These may be listed online, but you might need to obtain them directly from the company. That leads me to the last item…
Interview them. You need to meet not just the sales people, but also the consultants with whom you'd be working. Make sure you're comfortable with the company. If you can "try them on" for a lesser project before engaging in a migration, you might consider that as a prerequisite.
Conclusion
Office 365 offers powerful new tools to customers. Functionality that previously required significant capital expenditures is now available as an operational expenditure. This means that you can buy what you need, when you need it and only as much as you want. While performing a migration may be a somewhat daunting undertaking, it's really no more complex than an in-house periodic upgrade… and it's the last one you'll ever need to do. Welcome to the cloud!
Over his 15 years in the IT industry, Scott Cameron has served as a consultant, technical trainer and mentor, public speaker, and a technical writer. He currently works for
Valorem Consulting
, where he helps midmarket and enterprise customers move to Office 365, and hosts a blog of his work at
Quite Cloudy
.
Images: Microsoft