The way
Robert Bennett
describes it, IT project work is on the upswing in Houston. Bennett, a vice president at
Robert Half Technology
, has seen a pick up in job orders over the last 45 to 60 days, especially for project managers and business analysts. He says a good 80 percent of the project work coming across his desk is for efforts that had been tabled in 2009.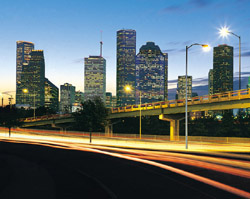 Still, he's cautious. "It's not a light switch," he says. "(Companies) are being very cautious, now more than ever. From what we're seeing, these projects are slowly getting the hiring going though companies are doing a lot more with less." Bottom line, they want IT workers who can do more, such as software developers who'll do quality assurance work, or PC technicians who can do help desk. Both recruiters and IT workers say Houston wasn't hit as hard by the recessions as cities in the West and Northeast. Of course, the area suffered job losses last year. The region is down 92,500 jobs and its unemployment rate stands at about 8.3 percent, in-line with the statewide unemployment rate. (That's below the national average of more than 10 percent.) However, recruiters are seeing an uptick in job orders.
Sean Ebner
, a vice president at staff recruiting
Technisource
, says his firm started to feel a recovery in November and December, and since then activity has picked up even more. "It's in full swing," says Ebner. Ebner says skill sets his clients seek are mostly project-centric. They're looking for project managers, programmers, data analysts, business analysts and business intelligence experts. As projects get under way, he expects demand for other skills to pick up, as well. Demand for infrastructure expertise has been fairly steady, Ebner says, driven by verticals involved with oil and gas.
Bennett agrees those verticals are busy, and adds education and health care. "We expect health care to go up quite a bit more by the end of the year," he says. "A lot of projects shelved in '08 and '09 had to do with health care."
Jim Davis
, managing director at
Manpower Professional's
Southwest, Texas and Louisiana office, reports a moderate increase in job orders in Houston area, including demand for .NET, Web-based projects and Java. "We are really seeing an uptick in (SAP and Oracle) ERP," he says "That has been significant."
Scott Sage
, who has worked as an SAP consultant for about 10 years, says demand for SAP expertise dipped after the economic downturn. Now it's improved compared to 2009, which was "brutal." While demand for staff augmentation (where SAP experts are brought in for project work) still is slow, consultants who focus on helping companies work through a specific SAP-focused problem is still lucrative. "Statement of Work is more lucrative and it requires a much higher skill set," says Sage. "That market right now is better than the staff augmentation piece."
Dice's
job postings from Houston showed a 20 percent decline in January, with 929 positions listed in January compared to 1,154 a year earlier. Still, January's numbers were slightly better than they'd been the previous month (804).