Deborah House, a managing director at staffing firm Technisource, notes encouraging signs about Phoenix's IT job market: In the last couple of months, more than a few of her candidates have received offers for either contract work or permanent positions. Even more encouraging: Candidates are no longer desperate to take any job at any price.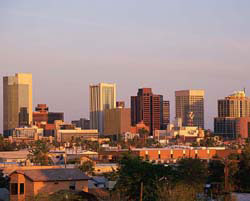 "We're seeing a lot of offer activity," says House. "And we're seeing a lot of candidates driving their own prices again. Employee confidence is coming back, and I'm encouraged when I see companies that are starting to look at the overall value of employee skills. I think the hallmark of 2010 will be about attracting and retaining talent again."
House notes two major trends she's seen emerge over the last couple of months: Companies are more concerned about getting good talent and retaining it, and candidates are getting two or three offers. The skills in the most demand are help desk and desktop support. There's also a renewed call for application developers. "That tells me that companies are gaining confidence in the consumers' need for jobs and services," House says.
On Dice, job postings for Phoenix also show an upward trend. In February 2010, year-over-year postings increased 23 percent, with 833 positions listed in compared to 680 in February 2009. In January 2010, 761 positions were listed.

Dan Fisk, who runs the Phoenix office for Robert Half Technology, says employers are willing to pay a premium for good candidates, in particular those skilled in .NET application development, Web application development, PC technology, help desk and desktop support. The rates aren't on par with what they were two years ago, but they're still relatively good. For instance, PC technicians can make $12 to $14 an hour, while help desk workers can make $14 to $17. Desktop support can get $16 to 19 an hour.Network administrators can make $50,000 to $80,000 annually.
Still, IT workers have to make a case for the kind of ROI they can achieve in order to get in the door. "If you can show experience and a good measure of ROI, then you have the best value proposition to demand higher pay," says Fisk.
Vincent Tenorio, senior technical recruiter for Manpower Professional, also notes an uptick in activity, although the flow isn't at the same level as it was before the recession. Manpower's had a 25 to 30 percent increase in orders compared to last quarter, mostly for contract work but also some permanent positions. "A few employers are doing the lion's share of the hiring," he says. "About a dozen are doing 80 percent of the hiring."
The influx is coming from companies in financial services and education, as well as in health care. The skill sets in demand are diverse. They include software development, software engineering, project management, business analysis, network engineering and database administration. While most is for efforts that were put on hold, about 10 percent are for new projects.
"There's a lot of activity in two areas," says Tenorio. "Business intelligence and data warehousing. They are trying to find new revenue streams."
-- Sonia R. Lelii