[caption id="attachment_14608" align="aligncenter" width="459"]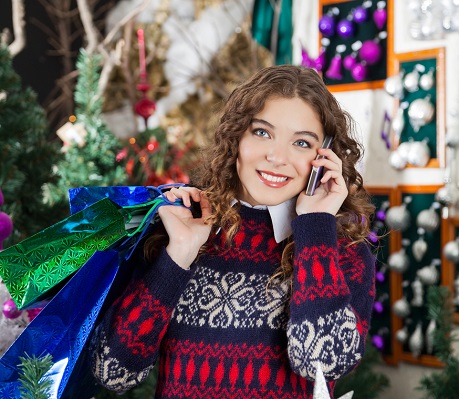 Retailers can net sales from young shoppers who 'showroom' in person and buy online[/caption] Carrying a Web-connected smartphone into a brick-and-mortar retail store gives customers a unique set of advantages: they can browse easily by walking around a physical space and view potential purchases in the highest definition – not to mention being able to touch, talk about, or even pick up an item to check its weight and feel. They can also scan barcodes or type in model names to look for reviews, warnings from consumer advocates, recommendations from experts, and the best prices. Brick-and-mortar retailers also don't have to suffer from customer "showrooming" this holiday shopping season if their customers are elderly enough, or if on-site salespeople are aggressive enough about keeping sales from flying out the window of a smartphone screen, according to a new study. Retail customers have been slow enough to adopt mobile technology that retailers haven't suffered nearly as much as they might have thought from "showrooming" – in which customers go to a retail store to check out a product in person while using tablets or smartphones to order from the site with the best prices, according to the
2013 Holiday Trends Report – Mobile Apps,
the latest quarterly report on online/retail shopping from CFI Group. On average, 61 percent of consumers surveyed use their smartphones to check prices while shopping in brick-and-mortar stores; 44 percent check reviews, and 36 percent check where else the product might be available. Breaking those responses into age- and income ranges changes the picture, however. While 91 percent of respondents in the 25-to-34-year-old group own smartphones – and 74 percent of those making less than $75,000 per year said they use phones to help them shop – far fewer of their elders say the same. But only a quarter of respondents with incomes of more than $150,000, or those aged 65- and over, do the same. Almost half of all respondents aged 45-to-64 years old said they use phones to check prices while shopping, but only a third check reviews or recommendations as well. The number of shoppers older than 65 who own smartphones is small – about 25 percent, according to CFI Group – but 80 percent of seniors who own cell phones check reviews and recommendations before making a purchase, even when they don't check prices while in the store, the report showed. Variation in how people in different age- and income groups use smartphones to showroom retail locations is so great that retail salespeople have plenty of opportunities to derail an online sales process by using information or mobile devices of their own to help shoppers make a decision, the report found. When a salesperson with a mobile device offers to help a shopper check prices, stock at other stores, reviews or find other information, about 10 percent of shoppers tune out the Web in favor of the real-world salesperson. Unfortunately, only 40 percent of those surveyed said they'd ever had a salesperson with a mobile device use it to offer helpful information. Of those who had been helped by smartphone-toting sales associates, 59 percent said the help was actually useful. "Retailers have an opportunity to maximize their holiday season through thoughtful engagement via mobile channels and devices to create the greatest impact on their performance," according to Sheri Petras, CEO of CFI Group, in a statement. The key is to equip salespeople with the right tools and target the right audience. Millenials (18-to-34-year-olds) are far more likely to showroom and buy elsewhere than other age groups, but also present a far more numerous target population for prowling salespeople eager to reel a sale off the web and into the store. Older or wealthier shoppers may be less likely to check smartphones while they shop, but are also more appreciative of timely assistance from smartphone- or competitive-information-wielding salespeople inside the store, according to the study (
PDF here
). The pressure to get just the right mix of salespeople, aggressive intervention and mobile devices may peak on Black Friday – the first big shopping day after Thanksgiving – but probably shouldn't, the report suggested. Of consumers surveyed about their online/offline digital shopping habits, only 25 percent said they will spend all or most of their holiday-shopping budgets on that one day, regardless of the medium in which they spend it. That means that, if in-store salespeople miss a sale to a smartphone-toting millennial on Black Friday, the company as a whole is likely to have another shot at those shoppers later in the season -- possibly while they're shopping on their cell phones while standing in some other company's showroom.
Image: Shutterstock.com/ Tyler Olson