[caption id="attachment_18022" align="aligncenter" width="618"]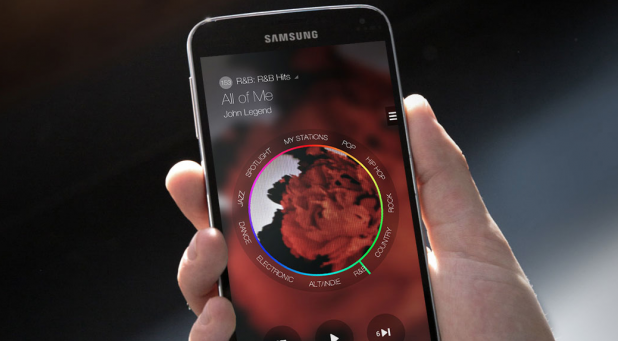 Samsung's Milk Music interface.[/caption] Samsung isn't a company to let a good trend go unexploited, and so it's launched a streaming-radio service.
Samsung's Milk Music
will not feature ads; its interface is sleek and shiny; and listeners can fine-tune their personal music stations to fit their tastes. There's just one catch: only owners of a Samsung Galaxy device can actually use the service. While Galaxy devices have managed to seize a not-insignificant portion of the Android market, Samsung could still experience some trouble making a dent in the increasingly crowded streaming-music space, where longtime competitors such as Spotify and Pandora continue to hold significant market-share—and new, strong rivals are appearing nearly every quarter. Beats Electronics, for example, recently launched Beats Music, a streaming service that relies on algorithms to automatically determine the next best song for the listener. In launching a music service, Samsung goes head-to-head in yet another respect with its archrival Apple, which offers iTunes Radio for iOS, Mac OS X, Windows, and Apple TV devices. All iTunes Radio is ad-free if subscribers sign up for iTunes Match (which stores all music in iCloud); there's also the option—as with all other streaming services—to customize radio stations. Samsung, like Google and Apple, can use the revenues from its other lines of business to absorb any losses in its streaming-music experiment. That alone could make it a threat to the standalone streaming services that draw revenue only from subscriptions, and must pay significant amounts of money to music conglomerates and other rights-holders. But as with so many other things in tech, size is no guarantee of success, and Samsung will likely have to fight if it wants its music service to have a significant impact.
Image: Samsung