While Samsung defends itself against Apple's accusations of patent infringement, it seems to be playing fast and loose with copyright. To
promote its Galaxy Player 50
, the Korean company apparently
used a screenshot
from blog of Laura Scott -- which
she posted
way back in 2008.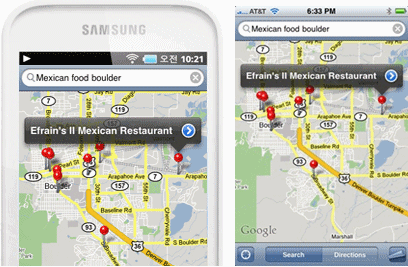 You can't make this stuff up. The screenshot was incorporated in the chassis of the Galaxy Player 50, with almost no modification other than covering the iPhone's status bar with Android's. The resulting image was used to promote the media player's "Powerful Google Mobile Service" on the
device's home page
. The website was inaccessible on my side at the time of writing, but here's a
screen shot
. This wasn't the first time Samsung's been accused of blatantly copying Apple. About a month ago, the company was in the same embarrassing situation when logos of Apple's App Store and Safari browser were found on wallpaper in what appears to be a Samsung display in Italy. It was later clarified that the wallpaper was part of the merchant's design, and Samsung had nothing to do with it. Nevertheless, the App Store and Safari icons were replaced by Samsung's own icons. More recently, a Samsung lawyer said she couldn't tell the difference between the iPad 2 and Galaxy Tab 10.1 at a distance of 10 feet when asked to do so by U.S. District Judge Lucy Koh. Another Samsung lawyer later supplied the correct answer.