What's New This Quarter
Here's an amazing stat:
Amazon
recently hired 12,800 employees bringing its headcount up to 109,800, compared with 81,400 a year ago. That means the company employs more people worldwide than
Microsoft
does and on any given day has thousands of additional job opportunities listed. (It's not easy to get in the door, though. Applicants at Amazon's Lab126 in Cupertino, Calif., which currently has more than 150 positions available, report eight-hour job interviews in front of nine different people.) Back in Seattle, a city design-review board unanimously endorsed Amazon's plan for a five-story office building formed by three intersecting spheres, perhaps the most eye-catching element of its massive, three-block Denny Triangle campus. Amazon also plans a 38-story tower.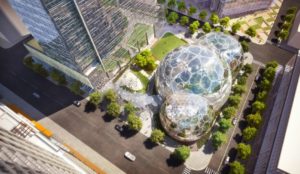 At Microsoft, morale may improve now that it's reportedly killed off its controversial practice of "stack ranking" employees. The approach forced managers to choose winners and losers on every Microsoft team, even if everyone was performing well. The Redmond giant is also opening a Cybercrime Center, "for advancing the global fight against cybercrime," the company says, adding that it will "tackle online crimes, including those associated with malware, botnets, intellectual property theft and technology-facilitated child exploitation." With any luck, a new CEO will be watching over Microsoft's innovations soon. One of the fastest growing companies on the east side of Lake Washington last year was Bellevue-based expense report software company
Concur
. The firm added more than 1,200 new employees, a 50 percent increase in its headcount. It also dramatically expanded overseas and invested in a variety of startups all over the world. Part of that investment was in local travel-related startups, such as social media travel firm Trover and Buuteeq, a small hotel software company. Big Data has also been hot in Seattle this year, and not only because of Amazon and Microsoft. Smaller players, such as Tableau Software, which made a $245 million IPO, have fueled this trend as well. As Tableau CEO Christian Chabot said, "Data is the oil of the 21st century."
Skills in Demand
Fifty eight percent of Seattle technology executives surveyed by
Robert Half Technology
said that network administration is among the skill sets in greatest demand within their IT departments. Windows administration and database management followed. Local recruiters say they're seeing continued high demand for software developers (Java or .NET), front-end Web developers (JavaScript), user interface developers and software development engineers in test (SDETs). Desktop support staff is also a perennial need. "Mobility, mobile application development and cloud services are at the forefront of demand," says T.J. Doton, Bellevue, Washington Managing Director for recruiting firm
Randstad
. "With the increasing number of smartphones and tablets in the market, companies are continually looking for ways to enhance their mobile experience for their end users. This year we saw a number of firms establish mobile centers of excellence in the Seattle market to take advantage of the talent pool locally, but there still remains a shortage of skilled resources in these areas."
Salary Trends
According to TechAmerica's Cyberstates 2013 report, Washington's tech workers earned an annual average wage of $110,200 (ranked third among all states), 125 percent more than the state's average private sector wage. Washington also has one of the highest concentrations of tech workers in the nation, with 8.2 percent of its private sector workforce in tech, the fifth highest concentration nationwide. Robert Half Technology says that 15 percent of Seattle-area technology executives expect to expand their IT teams in the first half of the year, compared to 8 percent in the previous quarter. In addition, 74 percent plan to fill open IT roles. In the same survey, 64 percent of Seattle CIOs felt confident in their firms' investment in IT projects at the going in to 2014. "We are not expecting a significant change in hiring patterns in 2014 for the greater Seattle area," says Randstad's Doton. "The demand for IT talent has not slowed during the past few months, and our clients' resource planning for next year remains just as aggressive."
Leading Industries
Telecom
Aerospace
E-commerce
Software Development
Healthcare
Local Employment and Research Resources