What's New This Quarter
Now that
Microsoft
CEO Steve Ballmer has announced his upcoming resignation and penned a series of memos about the future of "One Microsoft," pundits are speculating about what a 2014 Microsoft may look like, and not just because
Nokia's
phone business is being brought into the fold. How many jobs could hang in the balance? Thousands could be at stake. (The company currently employs just under 100,000 people worldwide.)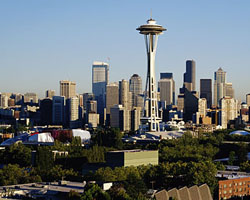 If you want to pursue a job at Microsoft, note that the company is the
16th most difficult interviewer
, according to a
Glassdoor
study. On average,
the interview process
there takes 29 days. Third-place telecom provider
T-Mobile
was boosted by its adoption of the iPhone and several new pricing plans, gaining customers for the first time in more than two years. The company added a net 688,000 contract customers in the second quarter, compared with a loss of 557,000 in the same period a year ago. Meanwhile, office supply giant
Staples
said it will
open an e-commerce development center
in downtown Seattle, and wants to hire software development, product management, usability, analytics and online merchandising employees. It's Staples' first West Coast office dedicated to e-commerce and engineering, and will house initiatives to enhance areas including next-generation digital platforms, personalization and Big Data. On the startup scene, 9Mile Labs, the new area startup accelerator for B2B companies, delivered nine new businesses to potential investors in September. The company has set out "to build a world-class entrepreneurial community in the Pacific Northwest" with "an emphasis on community… one of the things that this area has in spades," says 9Mile Labs Partner Tom Casey.
Skills in Demand
Local recruiters say they are seeing continued high demand for software developers (Java or .NET), front-end Web developers (JavaScript), user interface developers and software development engineers in test (SDETs). Desktop support staff is also a perennial need. According to WANTED Analytics, software developers enjoyed the greatest demand in August, with 13,000 jobs advertised online, up 17 percent from the previous month. IT project managers experienced the greatest year-over-year increase, up 23 percent since August 2012. "We've seen an uptick in Web development, mobile application development, healthcare project management and UNIX systems engineering needs as of late," says T.J. Doton, managing director at recruiting firm
Randstad
. "These have been driven by ongoing project needs, along with the start of the 2014 fiscal year for those companies that follow a different calendar year than the traditional calendar."
Trends
According to IT recruiting firm
Robert Half Technology
, 7 percent of Seattle-area technology executives expect to expand their IT teams in the fourth quarter, compared to 10 percent in the previous quarter. In addition, 69 percent plan to fill open IT roles in the upcoming quarter. In the same survey, 86 percent of Seattle CIOs were optimistic about their prospects for growth in the fourth quarter, and 64 percent felt confident in their firms' fourth-quarter investment in IT projects. Both those numbers are up in the past three months. A survey by WANTED Analytics found that in August, the number of tech related jobs grew 7 percent year-over-year compared to August 2012 and more than 160 percent from four years ago.
Leading Industries
Telecom
Aerospace
E-commerce
Software Development
Local Employment and Research Resources