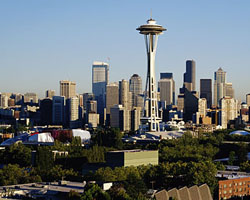 Seattle the Gaming Center of the U.S.?
After the sale of PopCap games to Electronic Arts, some are looking at the area as a hub for game development. With local firms Valve Software and Big Fish Games considered to be acquisition targets, Seattle could become the leading game-development area in the country, suggests Mike O'Brien, president and executive producer at ArenaNet.
Seattle Times
Small Tech Companies Watch Zillow IPO:
Zillow's initial public offering will reveal whether smaller companies can successfully get in on the IPO action. One of the firms watching the offering is Trulia, a San Francisco-based competitor to Zillow, which has also discussed plans to go public.
Bloomberg
Microsoft Offers Bounty for Botnet Creators:
Microsoft is stepping into the role digital sheriff by offering a $250,000 reward for those who can provide information resulting in the identification, arrest and conviction of Rustock's creators. The botnet had the capacity of sending more than 30 billion messages every day.
Geekwire
Area Tops Country in Wage Growth:
The Seattle area is the strongest region for wage growth in the country, according to a study by PayScale. Salaries increased 0.8 percent year on year in the second quarter, driven by a boost in wages at Microsoft, substantial hiring by Amazon.com and strong performance by Boeing and its vendors.
Puget Sound Business Journal
Seattle Gets Upgraded to 4G:
The Puget Sound area got a big 4G wireless broadband upgrade to cover nearly 3 million residents. Comcast and Clearwire have a wholesale agreement to offer Clearwire's 4G service as Xfinity Internet 2go wireless broadband as part of a service bundle.
Multichannel News
UW Promotes Innovation District:
Michael Young, the new University of Washington president, told Seattle's City Council that an "innovation district" in the U District would nurture new businesses and provide "mixed-use" areas for living and working.
Seattle Times
Amazon Kindle Offers Textbooks:
Amazon now allows students to rent tens of thousands of textbooks from its Kindle Store. The company says its rental prices are as much as 80 percent lower than a printed textbook's purchase price.
Seattle Times