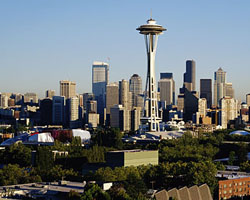 Strange Bedfellows:
Microsoft could benefit from Google's acquisition of Motorola Mobility. If it goes through, the acquisition could make Windows Phone more attractive to developers since Redmond would become the only major OS developer without a hardware arm of its own.
Seattle Post Intelligencer
Google Continues Seattle Growth:
Google has expanded its office space in Fremont and leased a new facility in Bothell. Google's Seattle Engineering Director Brian Bershad reiterates what the company has said before: There's a "strong pipeline of talent" in the area that it wants to tap. Google has more than 850 employees in its Seattle and Kirkland offices working on products like Google Search, Chrome and Google Plus.
GeekWire
California Group Calls for Amazon Boycott:
A group of California lawmakers and nonprofit organizations are calling for a ban of Amazon because of the company's push to repeal a law that would force it to collect state sales taxes. The group created
ThinkBeforeYouClickCA.org
, a site intended to organize opposition and encourage consumers to cancel their Amazon accounts.
TechFlash
Amazon Top Online Retailer:
Amazon has the largest global audience of retail sites, beating out Walmart, Apple and eBay, according to Comscore. In June, the company had 20 percent of the worldwide audience among retail and auction sites, with 282.2 million unique visitors.
Puget Sound Business Journal
Health IT Groups See Future in Mobile:
The Institute for Health Technology Transformation's Seattle summit brought together more than 100 healthcare executives from around the country. Besides delving into cloud computing, the group focused on mobile health strategies, accelerating the adoption of mobile health projects and whether mobile health and telehealth could be considered disruptive technologies. The consensus: mHealth is certainly one, given the increasing number of mobile devices being used in Health IT.
HealthcareITNews
Seattle Life Sciences Market Grows:
Leasing activity has increased for the Seattle-area life sciences market, leaving little office/lab space available in the city.
Puget Sound Business Journal
Washington Jobless Rate Steady:
The unemployment rate in Washington State remained at 9.3 percent in July, even though employers added 5,700 jobs during the month, according to the state labor department. The Seattle-Bellevue-Everett unemployment rate was 8.9 percent, up from 8.8 percent in June. The aerospace industry added 1,100 jobs, but the report doesn't distinguish tech jobs.
TechFlash