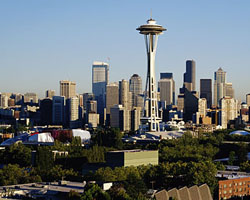 Microsoft Wants WebOS Developers:
After HP announced it was getting out of the consumer market and its plans for WebOS went up in the air, Microsoft sent out a message seeking WebOS developers for Windows mobile development. "To Any Published WebOS Devs: We'll give you what you need to be successful on #WindowsPhone, incl.free phones, dev tools, and training, etc.," tweeted Brandon Watson, the company's senior director of Windows Phone 7 development. Watson received more than 500 responses in 22 hours.
TechFlash
Can Apple Continue to Innovate without Jobs?:
With Steve Jobs handing over the helm of Apple to Tim Cook, the company has to prove it can do just fine without its co-founder. While Apple's product pipeline might be secure for another few years, the company will eventually have to come up with market-changing ideas, notes Trip Chowdhry, an analyst with Global Equities Research. "Apple is Steve Jobs, Steve Jobs is Apple, and Steve Jobs is innovation," Chowdhry says. "You can teach people how to be operationally efficient, you can hire consultants to tell you how to do that, but God creates innovation... Apple without Steve Jobs is nothing."
Seattle Post Intelligencer
Seattle Top Technology City in the Country:
A new ranking by Scientific American declared Seattle the top city for technology in the U.S. The list was compiled using tech-related rankings from a number of publications and creating an aggregate score. However, SA admits: "Not all of the above lists were created using conventional statistical or scientific methods, therefore their validity could be suspect." That's the line people in Palo Alto are no doubt focusing on.
Scientific American
Microsoft/Motorola Lawsuit Moves to Seattle:
Microsoft successfully moved its lawsuit against Motorola to its preferred federal court in Seattle. The company is seeking to ban the sale of Motorola's Android phones because of patent disputes.
Reuters
Startup Riot Is Speed Dating for Entrepreneurs:
At the Startup Riot, 25 aspiring entrepreneurs gave three-minute pitches about their tech companies to a panel of judges. The winner got seven hours in front of a team of potential investors. Those who didn't make the cut could attend a job fair where Seattle startups met with job candidates. Woo hoo.
King5.com
Vertafore Acqures Kaplan Compliance Solutions:
Vertafore, which makes insurance-related software, acquired Kaplan Compliance Solutions, a unit of Kaplan University's School of Professional and Continuing Education. About 100 employees from Kaplan will now join Vertafore, which employes more than 1,200 people.
Geekwire
Verizon Invests Heavily:
Verizon says it has spent $94.4 million so far this year to improve the company's network in Washington state. Last year, the company invested $114 million here. The investments include launching 4G LTE in Spokane, Tacoma, Everett and Olympia, as well as adding new cell sites and hardware and software upgrades to improve 3G network coverage.
TechFlash
Zillow is Growing, Hiring:
Zillow, which recently filed for an IPO, had record traffic to its Web and mobile sites in July, giving it year-over-year growth of 98 percent. The 264-person company just opened 40 new positions, including jobs for software engineers and sales professionals.
GeekWire