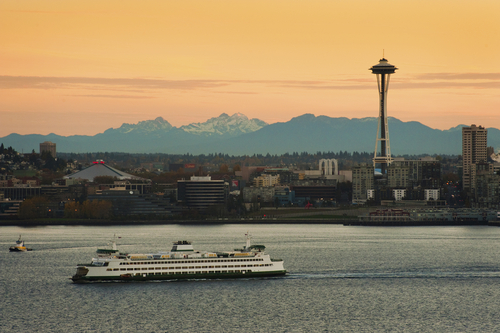 When
Microsoft
announced layoffs of up to 18,000 worldwide employees on July 17—with 1,300 cuts coming to its Seattle headquarters—you could almost see the shock waves, given most analysts had predicted a number closer to 6,000. The cuts will be completed by next July. With new-ish CEO Satya Nadella preaching a philosophy of "agility," the company is pinning its hopes not only on the next version of
Windows
(which may erase the generally negative view of Windows 8) but also on a blast of PR hype around its $2.5 billion purchase of Mojang AB, maker of the popular
Minecraft
game. There's also a sense that laid-off Microsofties will find soft landings all around Seattle, which is increasingly crowded with tech-pro-hungry technology companies, of which
Amazon
is but one. In fact, Zillow CEO Spencer Rascoff tweeted a link to his company's job board as soon as the Microsoft layoffs were announced. His company acquired rival Trulia for $3.5 billion in July.
Click here to find tech jobs in Seattle.
"Major tech companies have recently tapped into the Seattle market as their
cloud engineering
centers, since a talent pool skilled in
Amazon Web Services
and
Azure
platforms already exists, so there are a lot of moving parts and people," said T.J. Doton, managing director at recruiting firm
Randstad Technologies
. "This is great for the community and another indicator of the strength of the market as a whole." In early September, a Reuters report counted up just how many Bay Area tech giants are extending their reach to the Puget Sound region. Twitter held a recruiting event in the fall, and Facebook, which has more than 400 employees in Seattle, hosted a reception at its local office. "A lot of our top engineers are from Microsoft and they are doing really well," Rohit Wad, who leads Facebook's Seattle office after an 18-year career at Microsoft, told Reuters. Google has more than 1,400 employees in Seattle, while Twitter has 100.
Upload Your ResumeEmployers want candidates like you. Upload your resume. Show them you're awesome.
"This year has been a 'if you can't beat 'em, join 'em' year in the Seattle market for Bay Area companies who had been trying to lure talent to California," Doton added. "Their strategies have shifted away from relocation, and footprints have expanded both for those companies who were already here but needed larger facilities and for those that simply designated Seattle as key centers of investment for the future." Local 800-pound gorilla Amazon isn't slowing down either. It now employs more than 132,000 people, and its second-quarter earnings statement said its employee base grew 4.8 percent in the last quarter and 37 percent in the last year, with its Seattle-based AWS operation growing the fastest. When San Francisco financial literacy startup NerdWallet compared the attraction of major metro areas for talent in STEM fields (Science, Technology, Engineering and Math), Seattle ranked number two. As of last year, about 17.3 percent of jobs in Silicon Valley were in STEM fields. Seattle had the second-largest share, with 12.7 percent. In less happy news, RealNetworks, one of the original dot-com stalwarts, said in August it would lay off about 10 percent of its staff, or roughly 85 people. And biotech giant Amgen said it would cut 12 to 15 percent of its worldwide staff, including the 660 people in its Seattle-based R&D labs and manufacturing sites, by the end of 2015. Perhaps some of them will find new careers with one of the region's increasing number of startups. When the local Techstars venture capital competition took place last summer, applications from San Francisco-based entrepreneurs were up 67 percent over the previous year—indicating, according to Techstars' Anders Maul, that Seattle is an increasingly desirable locale for startups, especially when compared to the hypercompetitive rat race of the Valley. "There's a great pool of talent in Seattle," he told the Puget Sound Business Journal.
Skills in Demand
"Engineering, engineering, engineering!" said Randstad's Doton. "
Software engineers
—particularly with expertise in
Java
and
J2EE
—remain at the forefront of demand, whether it's traditional or
mobile development
on
iOS
or
Android
. Demand for
network engineers
has remained quite strong, along with
systems engineers
in
UNIX
or Windows. Engineers don't need to go find opportunities, the opportunities find them." Fifty-five percent of Seattle technology executives surveyed by Robert Half Technology said that
network administration
is among the skill sets in greatest demand within their IT departments.
Database management
and
desktop support
followed.
Salary Trends
According to the
2014-2013 Dice Salary Survey
, the average salary for a Seattle-based IT professional is $95,048, up 0.8 percent from the previous year and 8.2 percent above the national average of $87,811. Software developer salaries start at about $95,000 in Seattle, compared to about $109,000 in the Valley, according to Robert Half Technology. Commercial real estate firm Jones Lang LaSalle found that wage growth in the region was up 9.2 percent in 2013, while employment was up 7.6 percent. TechAmerica's Cyberstates 2013 report found that Washington's tech workers earned an annual average wage of $110,200 (ranked third among all states), 125 percent more than the state's average private-sector wage. Washington also has one of the highest concentrations of tech workers in the nation, with 8.2 percent of its private sector workforce in tech, the fifth highest concentration nationwide. Robert Half Technology believes that 16 percent of Seattle-area technology executives expect to expand their IT teams in the second half of 2014, compared to 15 percent in the previous half. In addition, 76 percent plan to fill open IT roles in the second half. In the same survey, 91 percent of Seattle CIOs said they were optimistic about their prospects for growth in the second half, and 73 percent felt confident in their firms' investment in IT projects as 2014 continues.
Leading Industries
Telecom
Aerospace
E-Commerce
Software Development
Cloud Technology
Healthcare
Local Employment and Research Resources
Related Articles
Image: Edmund Lowe Photography/Shutterstock.com