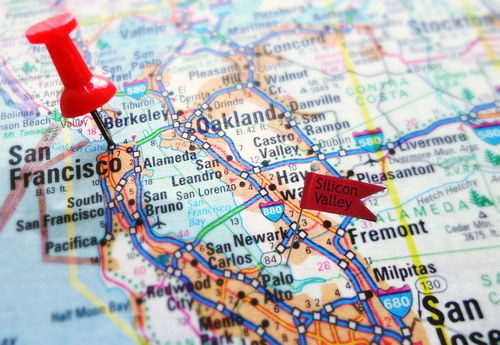 What's New This Quarter
A quick scan of the Valley finds it as frothy as ever, with constant bulletins about huge mergers and acquisitions drowning out the less-bubbly news of restructurings and downsizings. The dog days of August brought new news that
Cisco
would lay off 6,000 employees, about 8 percent of the company's workforce, in order to make itself more agile. In comments to his workforce, CEO John Chambers said: "It's about investing in our growth and moving fast… We have a chance to lead the entire IT industry… In markets if you don't move now, you get left behind." So Cisco will move ahead, while a few folks get left behind. Also on the way out is
Microsoft
Research Silicon Valley, founded in Mountain View in August 2001. The lab's primary work revolved around distributed computing, computer architecture, Internet search and services, and related theory.
Click here to find a tech job in Mountain View, Calif.
Despite those corporate bumps, recruiters are busier than ever. "The market is insane right now, and it's absolutely a job hunter's market," said Monique Fierros, recruiting director at recruiting firm
Randstad Technologies
. "There are offers and opportunities everywhere you look. Speed and urgency on the mind of anyone who is hiring since candidates for hot positions are going on and off the market within two weeks." Maybe some of those candidates will end up working for the ultimate New Yorker, newly reinstalled
Bloomberg
CEO Michael Bloomberg, who toured the Valley in July to promote Bloomberg LP's upcoming San Francisco R&D office, which will house up to 100
software engineers
. Bloomberg's comment about the Valley, as overheard by Re/code: "I noticed every guy down there is dating a woman named Siri."
Upload Your ResumeEmployers want candidates like you. Upload your resume. Show them you're awesome.
In local M&A news, San Francisco-based video-gaming content site Twitch Interactive was acquired by Seattle-based
Amazon.com
for just under a billion dollars, while San Francisco-based real estate website Trulia was acquired by Seattle-based
Zillow
for $3.5 billion. Does two make a trend?
Samsung
completed its acquisition of home automation startup SmartThings for $200 million, and most of its operations will be relocated from Washington to Palo Alto, where Samsung has its Open Innovation Center. Y Combinator, Silicon Valley's powerful startup club, is recruiting health-centric startups for the first time in its history. Digital health, including the kinds of wearable technology that
Apple
may finally force into the mainstream with its upcoming Apple Watch, received $1.9 billion in VC investment in 2013, up 39 percent from 2012. A dozen health startups demoed at Y Combinator's most recent demo day. Google certainly isn't slowing down. It has just paid $98 million for nine Mountain View buildings to help accommodate its 52,000 employees, a number that's up from 45,000 a year ago.
Skills in Demand
Fifty-seven percent of Bay Area technology executives surveyed by IT recruiting firm
Robert Half Technology
think that both
network administration
and
database management
are among the skill sets in greatest demand within their IT departments.
Desktop support
and
Windows administration
follow. "We're seeing more of a trend toward
Web developers
with responsive-design frameworks like
Node.js
,
Angular.js
,
Backbone.js
,
ZURB Foundation
, and the like because they allow
front-end developers
to easily write server-side code," said David Knapp, San Francisco metro market manager of IT recruiting firm Robert Half Technology. "Web developers are also hot," he added. "They were the highest in-demand functional role for us during the second quarter, along with desktop support or
help desk technicians
. In addition, network administrators and
network engineers
are in demand on the infrastructure side." "Node.JS, Angular.JS and
Python developers
are in high demand and are the hardest talent to find," said Randstad's Fierros. "We also see high demand for the usual developer skills as well as
technical project managers
,
network and system engineers
,
network architects
,
cloud engineers
,
MongoDB experts
, and
Hadoop experts
." According to IT recruiting firm
Mondo's
2014-2015 Salary Guide, the top three skills currently in demand in the Bay Area are application and software development,
e-commerce
, and
database administration
.
Salary Trends
When NerdWallet crunched some federal numbers to compare the appeal of major metro areas for talent in STEM fields, San Jose came in first by a mile, with its average $111,745 STEM salary beating out San Francisco's $101,280. NerdWallet praised the Valley for the breadth and depth of its STEM sector. (About 17.3 percent of Valley jobs were STEM-related in 2013.) According to the
2014-2013 Dice Salary Survey
, the average salary for a Silicon Valley-based IT professional is the nation's highest at $108,603, up 7.2 percent from the previous year and 23.6 percent above the national average of $87,811. Robert Half Technology reports that 16 percent of Bay Area technology executives expect to hire in the second half of 2014, and 71 percent expect to expand their IT teams or fill vacant slots. In the same survey, 89 percent of Bay Area CIOs were optimistic about their companies' prospects for growth in the second half. According to Mondo,
Data Scientists
;
Oracle
, Hadoop, and Neteeza developers; AWS consultants; and
MySQL developers
are currently seeing the largest salary jumps.
Leading Industries
Information Technology
Technology Manufacturing
Software Development
Construction
Defense/Aerospace
Local Employment and Research Resources
Related Articles
Image: zimmytws/Shutterstock.com