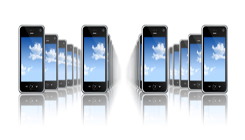 There are a lot of computers in the world, but if the latest trends continue, there will be even more smartphones. Market research firm Canalys added up the worldwide numbers for 2011, and the results show an inexorable shift away from the desktop and toward truly handheld mobile computing. According to Canalys,
total annual global shipments of smartphones exceeded those of client PCs
(including tablets) for the first time in 2011. Smartphone shipments totaled a remarkable 487.7 million units, up 63 percent over the nearly 300 million shipped in 2010. By comparison, the global client PC market grew 15 percent in 2011 to 414.6 million units, and note that includes 274 percent growth in tablet shipments, which accounted for 15 percent of all client PC shipments in 2011. In other words, all those iPhones and Androids really did add up. Chris Jones, Canalys VP and Principal Analyst, says:
Smartphone shipments overtaking those of client PCs should be seen as a significant milestone. In the space of a few years, smartphones have grown from being a niche product segment at the high end of the mobile phone market to becoming a truly mass-market proposition. The greater availability of smartphones at lower price points has helped tremendously, but there has been a driving trend of increasing consumer appetite for Internet browsing, content consumption, and engaging with apps and services on mobile devices.
Canalys doesn't expect to see smartphone sales continue at the same blistering pace in 2012 as phone vendors look to sell fewer but higher-margin models. Nevertheless, the implications are clear: today's enterprise is a fully mobile enterprise, and IT has to be ready to deploy and service smartphones the same way they deploy and service desktop and laptop PCs.