November 2009
Over the past year, the media has been full of reports about the so-called "new era of big government." You couldn't be blamed for assuming that one effect of the massive economic stimulus and federal healthcare initiatives would be an increase in available IT jobs in the nation's capital.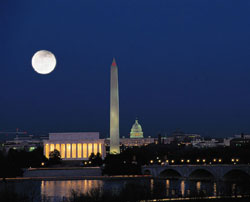 So what's the reality? In Washington, D.C., unemployment is high, just like everywhere else. September's rate stood at 11.4 percent, up from 7.4 percent a year earlier. The good news, at least for those in the tech community, is that IT will be an employment leader as D.C. emerges from the current recession. As Moody's Investors Service recently put it, "An expanding federal government will anchor the area's rebound, and the region is apt to see a stronger return to growth than much of the rest of the country once the recession ends." The financial regulation and health care sectors will lead the way, Moody's says.


At least one Northern Virginia IT contractor, Platinum Solutions, is rebounding already, reporting it's consistently had 20 to 40 job openings since July. It uses four recruiters to fill them quickly.
On Dice, evidence of such an uptick hasn't emerged just yet. The number of available IT job listings for Washington has been fairly consistent over the past few months, but it dropped 20 percent from October 2008 to October 2009. Currently, there are approximately 5,400 jobs listed, ranking D.C. second behind New York in the number of listings. So while the trend isn't impressive, the raw numbers of available jobs is.
That may improve if, as Reston, Va., market research firm Input predicts, the federal government increases spending on technology services by 3.5 percent over the next five years. "This is a spend to save administration," says Deniece Peterson, manager of industry analysis. "Even if there is a slight bump in federal employment, the government still has to supply the technological infrastructure for those workers."
That sentiment is backed up by the quarterly Robert Half Technology IT Hiring Index and Skills Report, which finds that in the fourth quarter, CIOs in the South Atlantic region, which includes D.C., are the most optimistic about hiring, with 4 percent planning on new hires.
What skills are most in demand? A broad mix, depending on whom you ask. The CIOs surveyed by Robert Half need network administration, desktop support, and Windows administration. Other recruiters mention virtualization, Web 2.0 expertise, and computer system design as skills needed in the D.C. market.
Dice job listings show strongest demand for operating systems expertise (Windows, Unix), database management (Oracle, SQL), and programming (C, C++, C#, J2EE/Java).
There are two great resources anyone pondering IT employment in the capital region should bookmark: Potomac Tech Wire is a local newsletter featuring the latest insight and gossip about the Washington technology scene. The Washington Alliance of Tech Workers (WashTech) is the blog and message board of the local Communications Workers of America union, an organization to which many technology workers in Washington belong. Both can provide up-to-the-minute information for anyone conducting a job search in the area.