Here's our weekly snapshot of who's hiring and who's firing across the IT landscape.
Hiring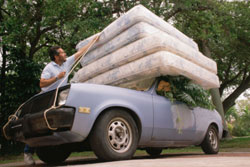 U.S. Bancorp
subsidiary and payment solutions provider
Elavon
wants to hire 50 tech workers for its headquarters in Atlanta. The company is looking to beef up its ranks over the next 12 to 18 months. [Georgia Public Broadcasting]
Plexus
, a product design and manufacturing company for the networking and communications industries, will add 350 positions to its 1,000-head workforce. [Postcrecent.com]
Barnes & Noble
is looking for several Java software engineers for its BN.com and Nook operations.
Layoffs
MetLife
is relocating roughly 2,600 non-sales positions to
two newly created campuses
in North Carolina. [Dice News]
Sony Electronics
will lay off 130 workers at its San Diego, Calif., facility on April 26. The move comes as Sony seeks to cut 10,000 workers from its payroll by the end of its fiscal year, which concludes March 31. [Sony]
Marriott International
says it will cut IT jobs at its headquarters in Bethesda, Md. The company didn't say how many of its 1,200 technical employees in the area would be affected. [Washington Post]
SoloPower
, a thin-film solar-cell maker, plans to cut 61 people from its San Jose, Calif., office on April 30. In February, the company announced plans to restructure its workforce as it moved from an R&D operation to one where it would begin commercial shipments. [Company Notice] Defense contractor
Teledyne Microelectric Technologies
expects to lay off 93 people from its Los Angeles office on May 11. [Company Notice]
Applied Materials
plans to cut eight people at its Santa Clara office and one in Sunnyvale on May 12. The layoffs are only a small portion of the 900 to 1,300 positions - 6 to 9 percent of the company's employees - that it will cut by the end July. [Company Notice]
UBM
is reportedly gearing up to shutter the print versions of its Informationweek and CRN publications. The company could lay off anywhere from 100 to 300 people who work at the publications. [Folio]
I
s there hiring or firing going on at your company? Email what you know — in confidence, of course — to
tips @ dice.com. (And remember, you probably don't want to send from your company email address.)