If your job prospects improved in 2013, then you'll probably like 2014. But there's a caveat: You'll continue to lose ground if you're in a non-strategic IT role, according to David Foote, CEO of research firm Foote Partners LLC.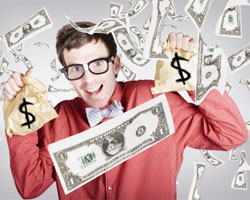 "Overall demand will be about the same in 2014," Foote says. "But sporadic skill shortages and an onslaught of new certifications will buoy the prospects and pay of professionals in key strategic roles. Professionals in operational roles are on the wrong side of IT and will continue to lose value." Since 2014 is shaping up to be a mirror image of 2013 from the job market's perspective, we asked Foote to revisit
his projections for 2013
and to explain why cloud, Big Data and mobile development professionals are poised for another great year.
Cloud Professionals
For 2013, "we forecasted that companies would hire enterprise architects, cloud administrators and resource planners and as a group cloud skills and certifications gained 1.5 percent in market value for the six months ending Oct. 1 and 4.2 percent over nine months," says Foote. "They outperformed all 348 IT skills and also outperformed the 293 IT certifications in our survey, so we got that one right." Today, as companies move from planning to implementation, they're defining the roles to be played by cloud professionals, he explains. Based on Foote's survey, and what he's hearing from employers, "we expect the demand for
cloud architects
, solution architects, administrators and integrators to continue to rise," Foote says. "It's not new news but it bears repeating since professionals can still catch the wave."
Big Data Expertise
"Last year we predicted good things for
database developers
and
admins
and that happened too," observes Foote. The database skills group in his IT Skills and Certifications Pay Index grew 5.7 percent in market value over the last six months, 4.6 percent in the last nine months and 3.5 percent in market value over the past 12 months. "We expect 2014 to be a good year for DBAs and data managers with one small caveat," he says. For the most part, large companies have already assembled their Big Data teams. Small and mid-size firms are behind the curve so they'll be doing most of the hiring." "The winners will be database developers, architects, analysts and technical specialists, especially if they know Apache HBase, NoSQL or prescriptive tools and analytics," says Foote.
Mobile App Developers and Device Managers
Last year, Foote predicted that
mobile app developers
,
wireless engineers
and wireless security professionals would be in demand. His prediction turned out to be accurate. As a group, certified and non-certified wireless skills gained 6 percent in market value over the past three months and 17.7 percent in value in the past 9 nine, according to the firm's survey. Foote doesn't foresee a drop in demand from the emergence of hybrid phones and mini tablets. "Demand for mobile developers would have ebbed in 2014 if not for these new devices," he says. One emerging role in the mobility space next year will be device manager. Device managers may work in-house or for third-party firms that oversee employee-owned devices and security for companies and government agencies.
Losing Ground
For 2013, Foote predicted that security specialists would have a banner year. But while security certifications increased in value by nearly 2 percent over the last nine months, the demand for professionals has ebbed and flowed. "Security is an area where there's a lot of smoke but not enough heat," Foote believes. "Everyone wants to talk about the need for security but when it's time to budget, companies can't justify spending for protection instead of growth."