The latest jobs numbers inspired The Daily Beast to seek out bright spots in the current employment market, which led it directly to - the technology sector. "The number of openings and wages are up, and these cutting-edge jobs cut across every field - technology is redefining every business in America - allowing a wide swath of the working population to jump in, with some retraining," says writer Clark Merrefield.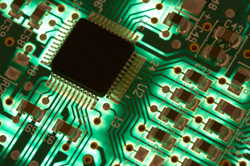 The Beast goes on to rank the 25 occupational categories in the tech sector by their estimated employment change through 2016, sourced by the Bureau of Labor Statistics. Points were also given by ranking the occupations based on actual employment and wage changes from 2006 to today.
Here's the top 10:
Network architect
System software designer
Data engineer
Network administrator
Database manager
Apps designer
Avionics specialist
Tech support specialist
Technology theorist
Computer programmer
The accompanying slide show gives you an idea of the growth potential, salaries, and job definitions. For example, do you know what a "technology theorist" does? (Hint: raw computer research.)
With any luck, you can already define yourself as one of the above. If not, at least you know where you may want to aim your future endeavors.
-- Don Willmott