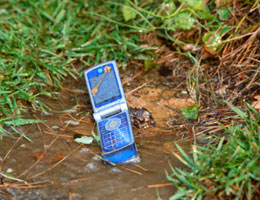 As gadgets get smarter and smaller, their importance grows while they become easier to lose. Even when our job may be on the line, we lose our devices. Just ask the Apple employee who
lost an iPhone 5
in a San Francisco bar. Too bad it wasn't an Android phone. He could have used
Where's my Droid
to track down the device. To use it, you install the app and -- if you lose it -- text your phone with a customized attention word that turns silent mode off, the ringer volume up, and starts ringing. That helps you if you've lost it in your house. If it's been stolen, you can text a different attention word and get a GPS location. Another service,
Prey
(as opposed to pray when you lose your gadget) lets you keep track of your laptop at all times and helps track it down it if it gets lost or stolen. Prey is lightweight, free, open source software. Besides gathering information, it triggers an alarm or a message, can wipe out your stored passwords, and lock the device down. The service runs undetected. The only way to wipe the program is to wipe the drive. Back to our Apple friend. If he'd installed Apple's
Find My iPhone
, he could have saved himself a lot of trouble. It takes a simple approach: If you lose your enabled device, you can use another iOS unit to find it. You sign in with your Apple ID, install the app on your "rescue" phone, and you'll see your errant device's location on a map. You can have it display a message, play a sound, remotely lock, or wipe itself clean. Fair warning, though: The few reviews on its app store page aren't pretty. In all cases, you should record your serial number and the Universally Unique Identifier (UUID) before it's lost. If you've located your phone and the thief (or the lucky Joe who found it) it's much easier to prove your case when you contact the police.