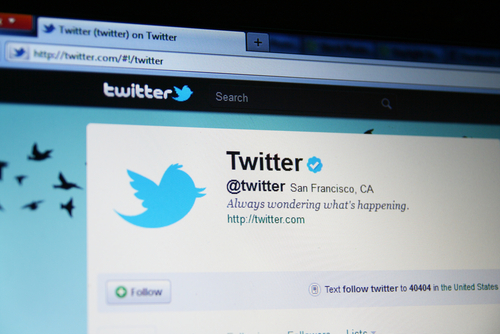 Twitter's profit and revenue will surge by 2015, a bank associated with the social network's forthcoming Initial Public Offering (IPO) is telling investors. Two of those (anonymous) investors
told USA Today
that Twitter is projecting $1.24 billion in annual revenues by 2015, while adjusted earnings before interest, taxes, depreciation and amortization (
EBITDA
) will hit $200 million. Morgan Stanley and Goldman Sachs, the banks leading the IPO, refused to offer public comment. "There will be a nice inflection point for Twitter a few years from now, which makes it attractive," Thomas Wyman, chief investment officer of The Global Internet Fund, told the newspaper. Those projected revenues seem particularly rosy, given Twitter's perpetual struggle to make money. The company's revenues for the first six months of 2013 totaled $253.6 million, a 107 percent increase from the same period in 2012—but net losses also rose by 41 percent to $63.9 million. There are also signs that Twitter's growth is slowing. In late 2012, the company announced that it had 200 million monthly active users; according to the company's Form S-1, that number had barely increased to 215 million by mid-2013—not exactly exponential growth. If user growth flattens off, it could affect Twitter's ability to earn money off ads, its main source of revenue. Despite those numbers, the Form S-1 sought to nip any budding concerns about the company's long-term prospects. "Since our inception, our user base has primarily grown organically and virally,"
the company wrote.
"Industry sources estimate that as of 2012 there were 2.4 billion Internet users and 1.2 billion smartphone users, of which only 215 million are MAUs [Monthly Active Users] of Twitter." In other words, if Twitter can persuade all those hundreds of millions of Internet users to sign onto its service, the future indeed looks bright. Perhaps in a nod to those shorter-term concerns, Twitter plans on pricing its shares at a relatively conservative $17 to $20, which could raise anywhere from $1.4 billion to $1.6 billion during the IPO,
according to The New York Times
.
No matter what its future prospects, at this point the last thing Twitter needs right now is a marketplace flop
.
Image: Annette Shaff/Shutterstock.com