[caption id="attachment_2995" align="aligncenter" width="618"]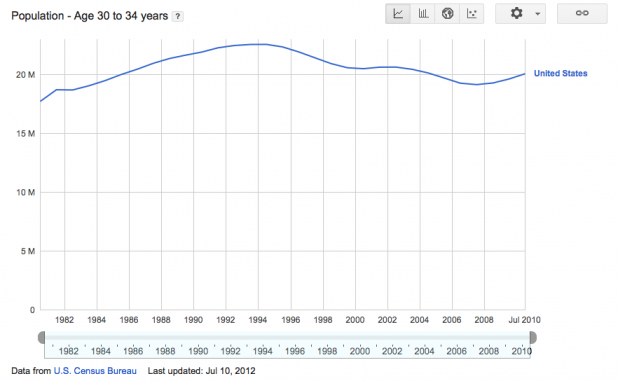 Massive datasets related to population and socio-economics are all over the Web, including Google.[/caption] For any software developers with an urge to play around with demographic or socio-economic data: the U.S. Census Bureau has launched an API for Web and mobile apps that can slice that statistical information in all sorts of nifty ways. The API draws data from two sets: the 2010 Census (statistics include population, age, sex, and race) and the 2006-2010 American Community Survey (offers information on education, income, occupation, commuting, and more). In theory, developers could use those datasets to analyze housing prices for a particular neighborhood, or gain insights into a city's employment cycles. The APIs include no information that could identify an individual. "Apps give people simpler access to our statistics so they can get the information they need to answer questions or solve problems," Stephen Buckner, chief of the Census Bureau's Center for New Media and Promotions,
wrote in a statement
tethered to the APIs' release. "As Web developers exercise their creativity with our statistics, we believe the public will gain more opportunities to access more of our information." Curious developers can find the
APIs here
; those wanting to talk over ideas have
a forum
, as well. There's also an
app gallery
for finished apps, which currently lists "Age Finder," for slicing demographic data by age, and "Poverty Status in the Past 12 Months by Sex by Age," a poverty-data app developed by the Program on Applied Demographics at Cornell University.
Data.gov
likewise showcases a collection of apps that leverage public data. These include "FlyOnTime," which uses a combination of weather information and data from the Bureau of Transportation Statistics to provide a look at travel conditions, as well as a National Obesity Comparison Tool. Google also offers access to large datasets from the U.S. Census Bureau, the U.S. Bureau of Labor Statistics, the World Resources Institute, and other sources; those interested in delving into the unemployment rate in Europe, or worldwide sources of energy, can visit
Google Public Data Explorer
.
Image: Google