If you're looking for a tech job in Silicon Valley, and want to refresh your skills or learn completely new technologies, you might want to start with one of the local workforce boards operated through federal One-Stop Centers.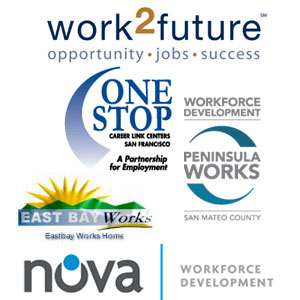 Many job seekers assume these programs are limited to providing basic training in manual trades, but that's actually pretty far from the case. Workforce Investment Boards (WIBs) help with job search tools through resume instruction and makeovers, interview practice and help with networking. With a certain amount of legwork on your part, some can even pay for retraining including school fees, books and supplies. Available training includes A+, MCSE and
Cisco
Levels 1 and 2 certifications, as well as courses on Java, C#, Ruby on Rails, PHP and SQL, among others. The training is delivered through community colleges, University of California and Cal State extension programs and private schools. "There's a commonality of services WIBs offer, however, there are differences in the details," says Lawrence Thoo, an analyst at Work2Future. "Not all draw from the same catalog of training programs."
Who's Who
Silicon Valley's WIBs include Nova, in Sunnyvale, which is tasked with serving the northern part of the Santa Clara Valley -- Cupertino, Los Altos, Milpitas, Mountain View, Palo Alto, Santa Clara and Sunnyvale. Work2Future, which serves the rest of Santa Clara County, operates through One-Stop Centers in San Jose, Campbell, Gilroy and Morgan Hill. PeninsulaWorks, out of Daly City and Menlo Park, works with San Mateo County. Other WIBs in the area include Alameda County's EastBayWorks and San Francisco's Career Link. The key reason these WIBs offer high-end training is that their customer base is both the local job seekers and local companies. Their goal is to train unemployed or "displaced" workers in the skills local employers actually need. Not only are they charged with providing employer services, they include local companies on the boards that guide their policies and programs. For example, Nova has board members from Cisco, Applied Materials,
Lockheed-Martin
,
Intuit
and
McAfee
. As a result, it's more likely to have contracts with training organizations that offer classes in programming, cloud services and network security than those in other parts of the country. "All workforce boards will teach you how to write a resume," notes Kris Stadelman, Nova's director, "but we hear from employers about what they are looking for in a tech resume." Companies in Nova's region hire workers from throughout the Bay Area, and even into the Central Valley, so Nova doesn't require customers to be from its service area. To save costs, almost all of its services are given through workshops, Stadelman says. Work2Future engages with individuals through a case management model, giving members a coach to guide them through the system. Its services are limited to its defined area. However, Thoo says, "when budgets are loose, one of the rules is that we tend not to observe the location of the seekers' residence. When budgets are tight, we are less inclined."
How They Work
Having a focus on a specific area's companies and workers impacts both the level and types of training offered. Even though all WIBs work with California's
Eligible Training Provider List
, not all WIBs have contracts with the same set of schools. Each has contracts based on the target industries and on the workforce's skill levels. "Industry sectors are determined by the economy of the region," explains Hillary Goodkind, acting director of PeninsulaWorks. Besides IT, her organization targets biotech and clean energy. Over the next five years, Nova will focus on tech, healthcare, advanced manufacturing and construction. Not only do employers' workforce needs play a part in the training offered, so does the level of regional workers' education. For example, 61 percent of workers in Nova's coverage area have a bachelor's degree or higher. By contrast, only 27 percent of those living in Work2Future's service area of San Jose and the southern part of Santa Clara County have college degrees. Thus, Work2Future's contracts tend to be with organizations offering administrative and blue collar jobs. However, when the need is warranted Work2Future will build programs for highly skilled technical workers. That happened when Cisco imposed a wide-ranging layoff at the same time Solyndra was closing. Work2Future created the Cisco & Solyndra Career Advancement Center because both companies' workers had similar backgrounds and retraining needs. In addition to linking individuals to retraining, the boards may team up with schools and non-profits to offer special programs, such as San Mateo County's partnership with Cañada College to offer mobile development training.
Signing Up
To get training, you'll need to complete a process designed to prove whether you'll be able to complete the program and whether it's likely to land you a job. Signing up with the WIBs requires proof of eligibility to work in the United States. Of course, each WIB has its own method of deciding whether you get training. Work2Future's process involves taking a series of basic skills tests, getting placed with a training coach and completing some online courses over a specified period of time. Nova's process doesn't include testing, but it does require members to find job ads for their requested fields and do informational interviewing with people working in the field. The two primary factors Nova looks at when a customer requests training are whether they've researched the area's labor market and whether they would be employable within a few months of completing their program. Still, "training does not substitute for experience," says Nova training specialist Sharadon Smith. "[We ask] 'Is there a labor market at the level you would come in?' We're just filling that gap that will put them over the hump." If you're interested in working with a WIB, Nova's Stadelman suggests that you start with the one nearest you. You're most likely to be qualified to use that office's programs. If the programs don't seem like a good fit, "Do a little market research," she says. Find out who the local companies are, what kinds of workers they hire and what the local labor market is like. If those match what you're looking for, give the WIB a try.