[caption id="attachment_14371" align="aligncenter" width="500"]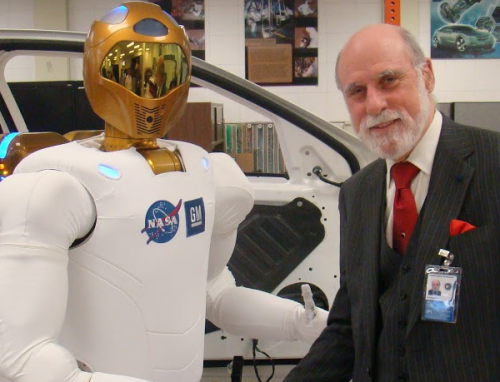 Vint Cerf and friend.[/caption] Vint Cerf, widely considered one of the "founders of the Internet," told an audience at the Federal Trade Commission's Internet of Things workshop that privacy could be considered "an anomaly."
That workshop
, held Nov. 19 in Washington, DC, explored (via speeches and panel discussions) how the proliferation of sensors on everything from cars to household devices is fundamentally changing how people live and work—while raising questions of how to best maintain privacy and security in an environment where more and more things are "watchers." "It's the industrial revolution and the growth of urban concentrations that led to a sense of anonymity," Cerf told the audience,
according to The Verge
. In other words, privacy is a relatively recent construction, rather than something that's endured for millennia as a cultural baseline—and vulnerable to sudden shifts in the technological landscape. "The technology that we use today has far outraced our social intuition, our headlights," he added. "[There's a] need to develop social conventions that are more respectful of people's privacy." Current social behaviors, such as instantly posting images from smartphones to social networks, can result in a whole lot of embarrassment—and maybe even penalties, if data and media happens to catch someone in the act of doing something illegal. Cerf currently works at Google as chief Internet evangelist, which would make him uniquely positioned to comment on these sorts of issues even if he hadn't co-created the TCP/IP backbone that supports the modern Web. (Back in April, he told an audience that, if he had to do it all over again,
he'd construct the Internet in the mold of Software-Defined Networking
—but that's a whole different, tangled discussion.) "This is something we're gonna have to live through," Cerf said. "I don't think it's easy to dictate this." Concerns over privacy could only increase as wearable electronics such as Google Glass come online, giving people the ability to broadcast their behavior in more ways from more places. Drones, data analytics, and the
growing omnipresence of the surveillance state
could also make the world an even more hostile place to those who want to keep at least a portion of their lives cloaked from public view.
Image: Vint Cerf/Google+