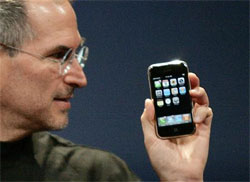 With all the serious musings about Steve Jobs on the Web today, we think PC Mag's Chloe Albanesius got it right by compiling a list of the best e-mails the Apple chairman (remember, he's staying on as chairman) sent to people far removed from insider status.
There's this
, from a journalism student researching iPads in colleges:
Mr. Jobs, I humbly ask why Apple is so wonderfully attentive to the needs of students, whether it be with the latest, greatest invention or the company's helpful customer service line, and yet, ironically, the Media Relations Department fails to answer any of my questions which are, as I have repeatedly told them, essential to my academic performance.
Jobs' response:
Our goals do not include helping you get a good grade. Sorry
A good lesson from the real world. Then
there's this
, from a customer unhappy with iPhone 4's notorious antenna problems:
I love my new iPhone 4 (nice work) but when I put my hand on the steel bands I lose all reception ... It appears to be a common issue. Any plans to fix this?
Jobs' response:
Just avoid holding it in that way.
Simple. Direct. But kind of avoiding the issue, don't you think?. Finally, there's
the extended exchange
with Ryan Tate, a Gawker reporter. Tate was troubled by Apple's lawsuit against his company -- Gawker Media -- over its acquisition of an iPhone protoype and Apple's limiting "self expression" by locking down iPad apps. He was also drinking. So Tate e-mails Jobs:
If Dylan was 20 today, how would he feel about your company? Would he think the iPad had the faintest thing to do with "revolution?" Revolutions are about freedom.
The resulting exchange was 10 messages long, which is pretty impressive when you consider Tate was attacking a billionaire legend in increasingly strident tones. But Jobs most certainly got the last word:
By the way, what have you done that's so great? Do you create anything, or just criticize others work and belittle their motivations?
My question: If Steve Jobs wanted to know what Dylan thought of the iPad, wouldn't he just call him? Source:
PCMag
Photo:
iThinkDifferent