[caption id="attachment_16946" align="aligncenter" width="618"]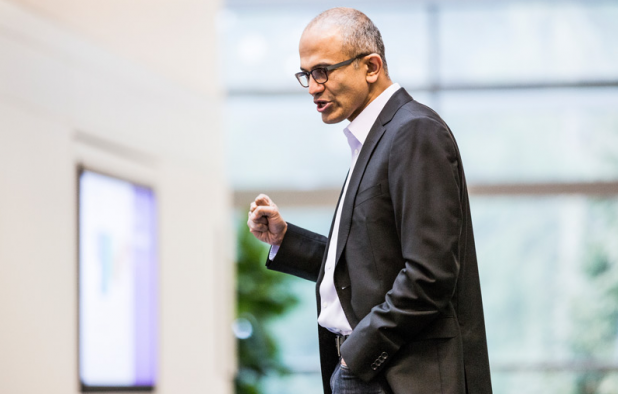 Nadella.[/caption] What kind of Microsoft will Satya Nadella run? It could end up a bewildering mix of old and new. In his email to employees soon after Microsoft unveiled him as the next CEO, Nadella suggested that he would continue with the "One Microsoft" strategy initiated by departing chief executive Steve Ballmer. That strategy seeks to knock down the walls separating the various divisions, with (at least in theory) the entire product portfolio—from Windows and Xbox to enterprise applications—working in concert. While many details of the integration remain murky, various executives have made it clear over the past few months that "One Microsoft" is also an engineering reorganization around four segments: OS, Apps, Cloud, and Devices.
In his email
, Nadella alluded to the "high-value activities" at the core of the strategy, adding: "With every service and device launch going forward we need to bring more innovation to bear around these scenarios." So Nadella isn't going to abandon the foundation that Ballmer established, which could irritate Microsoft watchers who feel the company is headed down the wrong path. Those critics who think Microsoft needs a fresh start may have a mixed reaction to Bill Gates stepping down from his position as chairman of Microsoft's board to become Nadella's Technology Advisor—time will tell how much of an influence Gates ultimately exerts over the company's future strategy, and whether Nadella can fully step out of his shadow. Even if he doesn't launch things in a radical new direction, however, there are signs that Nadella intends to make his own imprint on Microsoft. His email to employees emphasized how Microsoft is now competing in a "mobile and cloud-first world." Given Nadella's background, that term has particular weight. In his twenty-plus years at Microsoft, he eventually rose to head up Microsoft's cloud and enterprise operations; arguably his biggest project at that helm was the creation of "Cloud OS," the platform that powers Microsoft's large-scale cloud services such as Azure and Office 365. So when he writes something like, "the opportunity ahead will require us to reimagine a lot of what we have done in the past for a mobile and cloud-first world," it's easy to picture him taking Microsoft in a direction that leaves it looking a lot more like Google than Apple, with an emphasis on cloud services over, say, the integrated hardware-software platforms advocated by Ballmer in the last months of his reign. Does that mean Nadella will begin whacking or selling off all of Microsoft's current hardware projects, including the Xbox? Some analysts (
including PC Magazine's Sascha Segan
) think so. But no CEO operates in a vacuum, and if Nadella wants to go down that particular route, he could find a considerable amount of internal resistance—not exactly an ideal scenario, given all the friction accompanying the "One Microsoft" reorganization. If Nadella's email is any indication, he's more likely to focus—at least initially—on making Xbox even more of a cloud-based platform, taking emphasis away from the physical console. That would put him in an ideal position to kill or even license the hardware a few years down the road, if things come to that. Now that Xbox is more profitable than in past years, it would be hard to argue that spinning off the whole division is a great idea. For Surface, Microsoft's in-house tablets, things are potentially much grimmer. If the current generation doesn't succeed, Nadella is likely to execute it; considering that he wasn't in the CEO seat when the project was launched, he doesn't need to save face by letting it linger. Because Microsoft needs a significant presence in mobile, and given how the acquisition of Nokia is already well underway, Nadella is unlikely to abandon Windows Phone. In fact, given his obvious favoritism towards the cloud and mobile, he could double down on the smartphone platform with some ambitious new strategy—but it could also be quite some time before he shows his cards in that regard. One thing's for certain: Nadella will put the emphasis on cloud and mobile in an attempt to out-Google Google. Whether he remakes the company in more radical ways is a matter of speculation, at least at this point.
Image: Microsoft