As if you we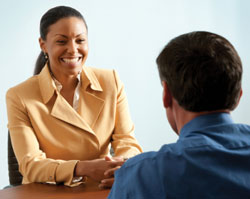 ren't nervous enough! Why not ponder Eight Ways a Job Interview Can Take a Turn for the Worse? Luckily, CIO.com doesn't just list the potential disasters. It also offers expert advice to help you recover from the diciest of situations, whether you're caught off guard by an illegal question, your cell phone rings, or you have a wardrobe malfunction. Among the good advice is this bit, for dealing with gaps or setbacks in your career history:
Bluffing your way through questions about, say, the length of your unemployment or the circumstances surrounding your departure from your last position, is out of the question, says career coach Susan Whitcomb. She advises job seekers to be proactive and forthright in addressing thorny employment issues. 'Write out answers to those questions that you hope nobody will ask you so that you're not caught off guard and you have a positive answer to them,' she says. For example, Whitcomb suggests a job seeker, who was fired or laid off, say something like, 'I just want to volunteer that in my last position, I was asked to leave. It was based on some circumstances that I have learned a great deal from. I can tell you what I've learned from the situation, how I've applied it, how it's made me a better person and a better candidate for your organization.'
And if you start to ramble when you answer a question? Stop yourself, think, and start again.
Pausing to consider a question more thoughtfully shows the hiring manager that you're in control of the interview. You're also self-aware enough to know when you're not communicating effectively and must find a new way to connect with the hiring manager.
The article also describes how to get around the fact that you don't have a specific skill that the job requires. That's a tough one, but it can actually be done!
--Don Willmott