Is the stereotypical image of techs with thick glasses, inept social skills, hunched over a computer for hours on end driving young women away from technology degrees? After all, women now outnumber men at elite colleges, law schools, medical schools and in the overall workforce. Women own 40 percent of the private businesses in the U.S., but they found only 8 percent of the venture-backed tech start-ups, according to Astia, a nonprofit group that advises female entrepreneurs. And only 22 percent of software engineers at tech companies are women, says the National Center for Women and Information Technology.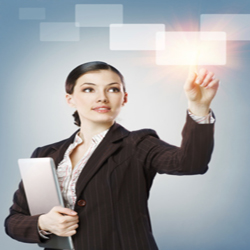 Calling all women: What's wrong with a career in technology?
"There's a really strong image of what a computer scientist is - male, skinny, no social life, eats junk food, plays video games, likes science fiction," writes Sapna Cheryan, an assistant professor of psychology at the University of Washington, in the New York Times. "It makes it hard for people who don't fit that image to think of it as an option for them."
Women make more than 83 percent of all consumer purchases, including 66 percent of home computers and consumer electronics. Yet, they hold only 27 percent of computer-related jobs.
For those women who in technology, more than half (56 percent) leave the tech profession midway through their careers, double the turnover rate for men. The reason is many women pursue supervisory and management jobs instead of "individual contributor" jobs involving deep technical expertise.

The result is a lack of ingenuity and product design. "One of the biggest criticisms of technology today is that user interfaces are poor," says Bill Hardgrave, a professor of information systems at the University of Arkansas. Men, he says, largely don't do a great job making products easier to use because they concentrate more on the "geek" factor. "I think women have more of an intuitive sense of designing interfaces."

Perhaps working in technology can be a bit like working on cars, another primarily male-dominated profession: a bit lonely and oriented around minute details Perhaps more women prefer to be involved with positions that require more management and social communication, where women generally excel compared with men.
-- Chandler Harris