[caption id="attachment_17932" align="aligncenter" width="618"]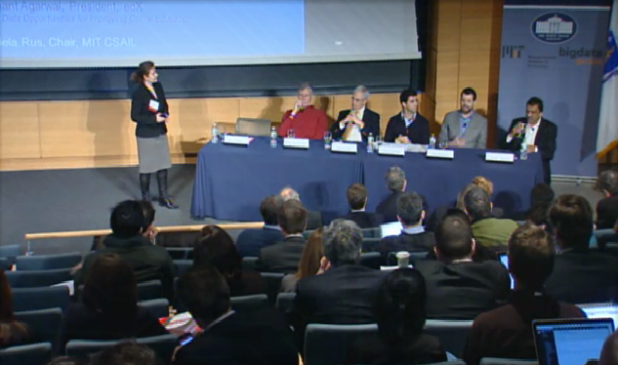 Video from the conference is online.[/caption] When White House executives and the Massachusetts Institute of Technology (MIT) co-hosted a daylong workshop on the privacy issues surrounding so-called "Big Data," attendees probably thought they would hear about those issues from government officials at the event. They were wrong.
According to BetaBoston
(a
Boston Globe
Website), government officials onstage refused to engage with other speakers and the audience about privacy, security, or other sensitive topics. Considering the workshop's title—"Big Data and Privacy: Advancing the State of the Art in Technology and Practice"—that recalcitrance was notable. As described by BetaBoston, John DeLong—the National Security Agency's director of compliance—declined to respond to comments about government whistleblower Edward Snowden, whose leaking of top-secret NSA documents sparked off months of news stories and government reviews. (A video of the event is
available on MIT's Website
.) "DeLong would look down and away (perhaps there was an interesting piece of metatada on the floor of Wong Auditorium)," is how the Website described the scene, "waiting silently for another panelist to move the discussion away from his agency." One of the event's keynote speeches, by U.S. Secretary of Commerce Penny Pritzker, likewise neglected to deal, in any meaningful way, with the thorny privacy issues that surround government data collection. That left it up to other, non-governmental speakers to discuss how to best guard individual privacy at a time in which personal records are often vacuumed
en masse
into huge datasets, which are then sliced, diced, and analyzed by all manner of public and private institutions. Ahead of the conference, there were warning signs that government officials wouldn't tackle the tough questions. "Big data has opened up so many possibilities for research, innovation, and education, while also demonstrating how important it is to use these technologies appropriately and responsibly," Daniel Weitzner, director of CSAIL's Decentralized Information Group and the White House's former deputy chief technology officer for Internet policy, wrote in a cookie-cutter statement announcing the event. "There's a lot of complexity to handling these issues, and our faculty look forward to exploring them at the workshop." Officials' reluctance to plunge into the weeds of privacy and security at the MIT conference could raise questions about the Obama administration's commitment to revising how the government collects and analyzes data, despite President Obama's January speech calling for such changes. Pritzker, along with White House counselor John Podesta, is tasked with leading a review of how "Big Data" will affect the ways in which citizens live and work—but what kind of final report will that workgroup submit?
Image: MIT