[caption id="attachment_16614" align="aligncenter" width="618"]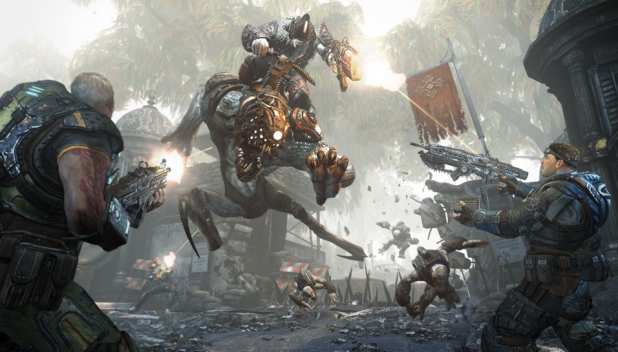 "Gears of War" offers players the chance to meditate peacefully on the nature of compassion.[/caption] Microsoft has acquired the rights to the "Gears of War" franchise from Epic Games, with Vancouver-based Black Tusk Studios (a member of Microsoft Studios) scheduled to take over development duties on the franchise. Financial terms of the deal went undisclosed. The "Gears of War" games have grossed more than $1 billion since the first one arrived as an exclusive title for the Xbox 360 in November 2006. Rod Fergusson, former director of production at Epic Games, will move over to Black Tusk to oversee franchise development. Microsoft promises an update on the next game later in 2014; as part of the deal, Epic will license the
Unreal Engine 4
to Microsoft, which will presumably use the platform in a variety of games. "They didn't have a firm plan for what they wanted to do with Gears, which obviously opened the door to conversation," Phil Spencer, Microsoft Studios corporate vice president,
told Polygon
about the conversation with Epic. "They wanted to make sure the franchise landed somewhere we could develop it well, so we started having discussions about how we could continue the franchise." Cliff Bleszinski, who served as lead designer for the "Gears of War" franchise before leaving the company in 2012, posted a congratulatory note on his blog. "[Microsoft studio] 343 knocked it out of the park with Halo and I think Black Tusk will do a fantastic job with Gears,"
he wrote
, before joking: "I suppose this puts the nail in the coffin of the question 'Will Gears ever come to Playstation?'" Epic will continue to make games, of course, including a sandbox survival title called
Fortnite
. The "Gears of War" series will join "Halo" as Microsoft's premium Xbox franchises. Microsoft will continue to pour tens of millions of dollars into the development and marketing of games for both. Call it the video-game version of Hollywood's "Blockbuster Syndrome," in which movie studios devote hundreds of millions of dollars per year to just a few films (usually sequels to popular franchises, such as "Star Wars" or Marvel's Avengers superheroes), hoping that each will make a billion at the box office. As Hollywood well knows, the risks of this strategy are enormous: if a would-be blockbuster fails ("The Lone Ranger," anyone?), the effect on the studio's bottom line is disastrous. The video-game world seems increasingly dependent on the blockbuster strategy as a way to underwrite the enormous costs associated with the Xbox One, PlayStation 4, and Nintendo Wii U platforms; game studios need those "big" games to likewise fund their legions of designers, developers, and executives. But someday, one of these blockbuster titles will hit the market and bomb spectacularly—perhaps renewing the conversation over whether the gaming ecosystem is truly healthy when everything released onto the market is either a plucky indie title (which, like
Minecraft
, could become a blockbuster) or a gargantuan franchise effort.
Image: Epic Games