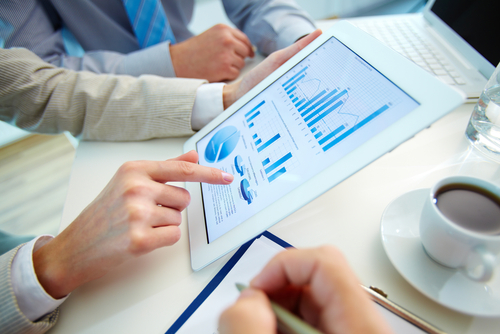 Organizations that widely deploy some sort of analytics platform enjoy boosted productivity and financial performance,
according to a new report
by Harvard Business Review Analytic Services and sponsored by SAS. However, relatively few organizations actually have analytics deployed in a "corporate-wide" fashion. Specifically, the global survey of 646 executives, managers and professionals across a variety of industries and geographies found that more than 70 percent had deployed analytics throughout their organizations and reaped the benefits in the form of "improved financial performance, increased productivity, reduced risks, and faster decision making." Those organizations without a "widespread distribution of analytics access," on the other hand, "were typically 20 percentage points less likely to report such benefits." Around 80 percent of respondents said they relied on data as part of their office roles, with 73 percent adding they needed data in order to make decisions. There's also a self-improvement element: 52 percent of respondents indicated that their organizations' analytics adoption compelled them to improve their skills, while another 43 percent said that analytics had boosted their job's importance to the organization as a whole. Despite those numbers showing a clear performance boost due to analytics, only 11 percent of respondents said that analytics had been deployed across their organization. Instead, around 36 percent of respondents indicated that analytics were in use "in various units/divisions" throughout their organization, with another 28 percent indicating that analytics were "used for specific functions/initiatives." Some 15 percent of respondents had organizational analytics isolated for a very specific issue, 5 percent had "no visibility" of analytics outside their area, and 5 percent said analytics simply weren't used in their organization. Harvard Business Review Analytic Services broke down the adoption of an analytics platform by a typical organization, suggesting that it evolves from relying overmuch on managerial intuition and instincts, to "siloed use" of analytics in some key areas, to expanding analytics use, to the adoption of a more holistic and corporate-wide approach to analytics, and finally to a "continuous improvement" plateau. "Analytics accelerates our decisions because everyone is now looking at the same reality," Filippo Passerini, Group President of Global Business Services and Chief Information Officer of Procter & Gamble, in quoted as saying in the report. Data analytics might translate into boosted revenue and better decision-making, but it's ultimately dependent on the quality of data actually entering the system:
a new column in the Harvard Business Review
by Dr. Thomas Redman asks companies to approach their data stores with scientific rigor, eliminating as much incomplete or inaccurate data as possible and making sure everyone within the organization understands the goals at hand. A Big Data implementation also demands that organizations build
a suitable foundation for implementation
.
Image: Dmitriy Shironosov/Shutterstock.com