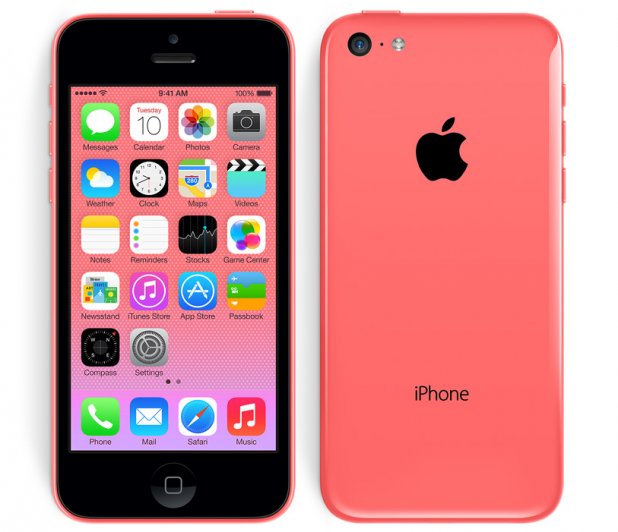 How many people are ordering Apple's new iPhone 5C?
As noted by CNET
, Apple hasn't released data on the number of iPhone 5C units it presold in the device's first 24 hours of availability—a first for the iPhone since 2009. Why is that? Reporter Josh Lowensohn speculates that iPhone 5C sales "may not be as impressive when stacked up against tallies from previous years," with one outside analyst suggesting that Apple racked up 1 million iPhone 5C preorders last Friday, or roughly half the 2 million presales scored by the iPhone 5 on its first day of ordering availability last year. Apple also hasn't made its other new smartphone, the high-end iPhone 5S, available for preorder; its reluctance to post pre-order numbers for the iPhone 5C may stem from a desire to bunch its iPhone sales numbers together, in which case it will wait until after the iPhone 5S releases on Sept. 20. On top of that, Apple's online storefront hasn't sold out of the iPhone 5C, which suggests there isn't a ravenous demand for the device. However well the iPhone 5C ends up performing on the open market, Apple's decision to launch two iPhones this year—rather than a single "hero" device—could result in self-cannibalism, as users who would've bought the iPhone 5S instead gravitate toward the cheaper option. Cannibalism is a topic that Apple knows well, as it's been dealing with the iPhone cannibalizing the iPod for the past several years; but a new iPhone eating away at another new iPhone is fresh territory for the company. During earnings calls, Apple CEO Tim Cook likes to argue that cannibalization—whether iPhones feeding off the iPod, or the iPad taking the place of MacBooks—is a good thing, so long as it's Apple products eating other Apple products. But it's far more questionable whether he would welcome the iPhone 5C—almost certainly a low-margin device, despite its current-generation components and plastic body—taking a bite out of the more expensive, and presumably higher-margin iPhone 5S. Margin erosion remains a prime concern of investors and Apple watchers; anything that contributes to that erosion is bound to be viewed unfavorably. If that wasn't thorny enough, the iPhone 5C costs $550 unsubsidized (and starts at $99 with a two-year contract in the U.S.). That's way too high for the lower-midrange market that many analysts assumed Apple would target with its "cheap" iPhone. "The pricing on the iPhone 5C is simply not low enough to adequately address the significant global growth opportunity that we believe exists with unsubsidized prepaid customers that have not yet bought a smartphone," BTIG analyst Walter Piecyk wrote in a blog post,
as reposted by FierceWireless
. To be fair, Apple has never expressed a desire to flood emerging markets with ultra-cheap devices; the company refuses to relinquish its claims to high quality in the name of making a few extra billion. But with Android swallowing up an ever-larger portion of the market, it seems as if Apple has fewer routes for increasing its own audience—and the iPhone 5C may not prove the solution that some expected.
Image: Apple