[caption id="attachment_14648" align="aligncenter" width="515"]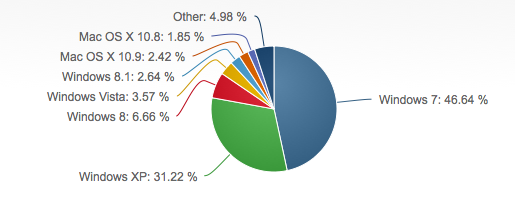 Net Applications' current breakdown of the PC OS market.[/caption] Windows 8 continues its slow adoption rate, according to new data from
Net Applications
. In the firm's
estimation
, Windows 7 continued to dominate PC operating systems with 46.64 percent market-share, followed by the geriatric Windows XP with 31.22 percent, Windows 8 with 6.66 percent, and Windows Vista with 3.57 percent. Windows 8.1—an update of Windows 8 that addresses a variety of user complaints with the original release—claimed 2.64 percent of the market, edging just ahead of Mac OS X 10.9 with 2.42 percent and Mac OS X 10.8 with 1.85 percent. Even at 9.3 percent—combining the respective percentages for Windows 8 and Windows 8.1—Microsoft's newest operating system lags behind Windows 7, which had nearly double the market presence during the same point in its release cycle. It did manage to
surpass Windows Vista's adoption rate
, which is probably a good thing, considering how the latter's been maligned for years as a failure. Even if Windows 8 manages to overtake Windows 7 and Windows XP, that victory could be something of a moot point: Microsoft always intended the operating system to carve major inroads into the tablet market, but so far it's failed to make much of a dent in the mobile-device duopoly of Apple's iOS and Google Android. Insult to injury, Microsoft was forced to take a $900 million write-down on its original Surface tablet, built in-house at considerable expense, which failed to sell despite a massive advertising campaign; it remains to be seen whether its successor, the Surface 2, can avoid the same humiliating fate. In the wake of its decision to become more of a "devices and services" firm, Microsoft also faces the prospect of its hardware partners dumping Windows exclusivity in favor of building more Android and Chrome OS devices; in October, for example, Hewlett-Packard CEO Meg Whitman told an audience of Wall Street analysts that she saw Microsoft as more of a competitor. "We are seeing profound changes in the competitive landscape," she said,
according to Business Insider
. That's not to say that Microsoft's on the verge of collapse: Windows in all its versions continues to dominate the PC market, and the company seems more determined than ever to put up a good fight in the mobile arena. But Windows 8 has quite a bit to go before it can qualify as a success.
Image: Net Applications