[caption id="attachment_16072" align="aligncenter" width="618"]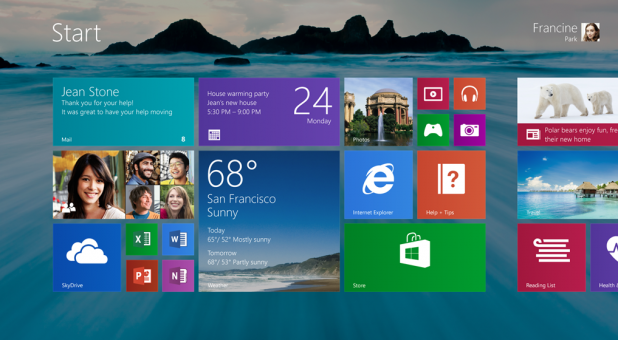 Windows 8.1.[/caption] A little over a year after Microsoft released Windows 8, and a mere three months after it pushed out a major update with Windows 8.1, rumors abound that Windows 9 is already on its way. According to Paul Thurrott's
Supersite for Windows
, Microsoft will begin discussing the next version of Windows (codenamed "Threshold," at least for the moment) at April's BUILD conference. "Threshold is more important than any specific updates," he wrote. "Windows 8 is tanking harder than Microsoft is comfortable discussing in public, and the latest release, Windows 8.1, which is a substantial and free upgrade with major improvements over the original release, is in use on less than 25 million PCs at the moment." Microsoft intends Threshold to clean up at least a portion of Windows 8's mess. Development on the latest operating system will supposedly begin in late April, which means developers who attend BUILD won't have access to an early alpha release—in fact, it could be quite some time before Microsoft locks down any new features, although it might double down on Windows 8's controversial "Modern" (previously known as "Metro") design interface. "Maturing and fixing the 'Metro' design language used by Windows will be a major focus area of Threshold," Thurrott added. "It's not clear what changes are coming, but it's safe to assume that a windowed mode that works on the desktop is part of that." It's clear that Windows 8 suffers from a much slower adoption rate than Microsoft would like. In December, analytics firm Net Applications estimated that Windows 8 held 6.66 percent of the OS market, trailing Windows 7 at 46.64 percent and the geriatric-but-popular Windows XP with 31.22 percent. Windows 8.1, an update meant to address a variety of user complaints with Windows 8, held just 2.64 percent of the market, which brings the total for Microsoft's latest operating system to 9.3 percent. Even if Windows 8 eventually conquers the PC market, that will come as a hollow victory to Microsoft, which always intended the operating system to help disrupt the tablet duopoly of Google Android and Apple's iOS. In their determination to make Windows 8 a major player in the mobile-device space, Microsoft executives and developers completely retooled the traditional Windows interface, introducing a Start screen composed of colorful—and touchable—tiles linked to applications. But customers didn't flock to the new design; one of the key tweaks in Windows 8.1, engineered in response to widespread feedback, is the ability to skip the Start screen in favor of booting directly to the desktop. In conjunction with Windows 8's release, Microsoft CEO Steve Ballmer also announced his company would evolve into more of a "devices and services" firm, even manufacturing a portion of its hardware in-house. That only irritated longtime Microsoft partners such as Hewlett-Packard, whose executives make their
displeasure known to the media
. And that might have been okay if Microsoft's homegrown devices enjoyed Apple-like sales numbers—but the first such product, the Surface tablet-PC-hybrid-thingie,
failed to sell despite a massive advertising campaign
. Yet if Thurrott's reporting proves correct, Microsoft isn't abandoning the new Windows interface that earned such a lackluster response—it's betting that the format, once tweaked, will somehow revive the operating system's fortunes. With Ballmer leaving the company and a major reorganization underway, it'll be the next Microsoft CEO's task to make sure that Windows 9 is a hit; in fact, considering that rumored 2015 release date, shepherding the OS could become that executive's first major test.
Image: Microsoft