By Brad Egeland
Have you ever asked your spouse if they would choose you again if they could do it all over? I have, but I have to be careful which day to ask. Likewise, have you ever wondered whether your client would hire you again? Was your performance such that they would want you? For most of us, I'm sure the answer is a resounding yes. But there are always those uncertain cases out there, some of them even beyond our control.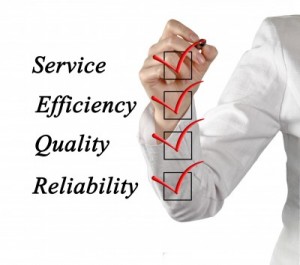 As a consulting engagement nears an end, it's a good time to look back and consider whether you've served your client appropriately. Have you been professional, attentive, and available? If they could turn back the clock three months, six months, twelve months or whatever, would they choose you once more? And the next question to ask yourself should be, "What have I learned from this engagement that I can take to my next assignment?"
Personal Assessment
The first step to answering these questions is to do a personal assessment. Before you ask your client for any feedback, think about it on your own. Be hard on yourself. If you're going to bring yourself to the point of really asking your client point blank, be ready for the worst and be ready to address it. So, where have you gone wrong? Where did you assume too much? Where were you not professional? Where did you leave the client hanging? Have you been organized? Have you been punctual? Have your deliverables been professionally presented? Have you been slacking – just phoning it in on certain days when you're swamped with other business? Do you feel that anywhere along the way you may have made your client feel like you weren't putting them first? These are the tough questions but you have to face them if you want to be ready for a discussion with the client. And, they're tough questions to address if you want to grow as a consultant. My motto is "You're only as successful as your last customer thinks you are." No matter how well
you
think things are going, if your client doesn't share your opinion, then it's not going well. Theirs is the only opinion that matters.
Client Opinion
So, now it's time to ask the tough question of your client. How do they think it's gone so far? Asking them now, rather than after the engagement is over, may seem like a difficult situation to put yourself in. However, doing it now rather than later could give you the opportunity to correct anything that's amiss, fix the dissatisfaction, save the project and possibly turn this customer into a repeat customer. We're in this business to make money, after all, and it's always easier to do business for repeat customers than have to go out and find new clients every time.
Different Methods
This discussion with the client can take the form of a casual discussion if your comfort level with the customer is high. An alternate route is to ask your client to complete a prepared questionnaire before you sit down and have a more formal discussion. Whichever route you choose, it's also a good idea to incorporate periodic lessons learned discussions during the engagement. Performing these can help both sides to bring concerns to the forefront early on, before issues rise to the level of customer frustration. That can go a long way toward keeping the engagement moving successfully ahead
Brad Egeland is a Business Solution Designer and IT/PM consultant and author with over 25 years of software development, management, and project management experience leading initiatives in Manufacturing, Government Contracting, Gaming and Hospitality, Retail Operations, Aviation and Airline, Pharmaceutical, Start-ups, Healthcare, Higher Education, Non-profit, High-Tech, Engineering and general IT. Brad is married, a father of 9, and living in sunny Las Vegas, NV. Visit Brad's site at http://www.bradegeland.com/.