[caption id="attachment_14410" align="aligncenter" width="500"]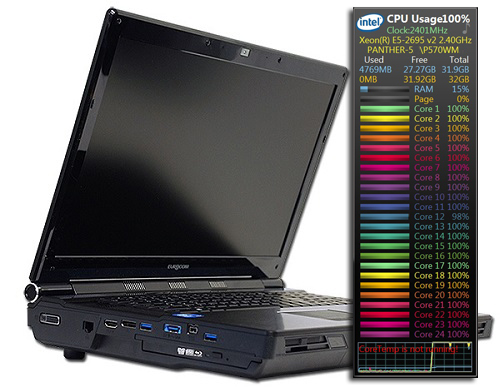 Eurocom's 12-core Panther 5SE "supercomputing laptop" (AKA:portable server)[/caption] Europe-based OEM Eurocom has announced a laptop that may finally outstrip the expectations of datacenter pros whose preferences are tempered by long days of high-performance computing, enterprise infrastructing, big-data analyzing, software-defining, virtualizing, federating, integrating, troubleshooting, consolidating and disruptive-technology-accommodating before going home to fend off "fix my computer" requests from desperate, disconnected friends and neighbors. The
Eurocom Panther 5SE Mobile Server
features a 12-core, 24-thread 2.7GHz Intel Xeon processor that Turbos to 3.5GHz and up to 32GB of DDR3 1600MHz memory. It's not one of those gaming rigs that are all graphics and memory and no substance, though: the platform comes with 6TB of storage configurable as RAID0/1/ 5 or RAID10 in four – count 'em – drive slots, Gigabit Ethernet NIC, a built-in UPS and a sysadmin's choice of operating systems including Windows Server 2012, Windows Server 2008 R2, Red Hat 6.4 Enterprise Server, VMware ESXi, Enterprise Server Edition and a range of other Linux distros. It also comes with discrete GPU with dual-VGA ports and a slot to install an
upgradeable
slot graphics card. For $1,720 Eurocom will include an NVIDIA Quadro K5000M 1344CUDA, quad-buffering graphics card with 4GB of GDDR5 (Graphics Double Data Rate, version 5) high-bandwidth memory (though less outrageously expensive GPUs are available, as well). The factory-rated one-hour battery/UPS life might be a drawback for road warriors looking for something to play with on the plane. The weight may also prove a drawback – or a weigh-down – at 12.1 pounds. But those slight inconveniences are the price you pay for what the maker calls a
"supercomputer-class laptop"
designed as "Highly scalable Mobile IT infrastructure…without the overhead of traditional server rooms," according to the announcement from Eurocom. The Panther 5SE isn't designed as a back-busting superhero of a personal laptop; it's a super-light, ultra-portable emergency enterprise-class server designed to support workgroups of up to 50 people, run enterprise applications and virtual workloads, be simple enough to transport to conferences, disaster-recovery sites or other temporary locations without special crates or carts, and fit easily on or under whatever desk space is available. "The Panther 5SE Mobile Server is perfect for organizations relocating operations that require fast network setup to eliminate staff downtime with overhead associated with traditional Server Rooms," according to Eurocom President Mark Bialic, who was quoted in the announcement. "Technically there is no server room required to get your organization or workgroup up and running." Previous versions of the Panther 5SE supported Xeon processors with up to eight cores. The most recent version supports 12-core versions of Xeon including E5-2697 v2, 2.7 GHz and the E52695 v2, 2.4 GHz in addition to the rest of the E5-2600 line of Intel Xeons with six, eight or 10 cores. Prices listed on
Eurocom's configuration page for Partner 5SE
models with 32GB of RAM range from $5,975 for a version with the cheapest 1TB hard drives and GPU, but no operating system. The top-end version, with a Xeon E5-2697 chip and the outrageous NVIDIA Quadro K5000M lists at $8,017, or $9,300 with Microsoft Server 2012 x64 Standard with 5 CALs installed. Add $110 for a Targus "sport" backpack to carry the "laptop," plus whatever high-risk-activity surcharges and co-pays your health insurance charges to treat your aching back.
Image: Eurocom