Founded in 2008,
2U, Inc
., is on the cutting edge of online education. The company partners with universities like Brandeis, Boston College,
Emory
, UC Berkeley, Northwestern and Notre Dame to present dynamic course content that can culminate in accredited graduate degrees. Approximately 90 out of the company's 550 employees work exclusively in technology and nearly all of the tech staff is housed in its New York hub.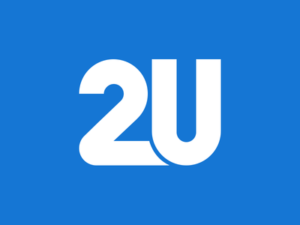 2U uses a remarkable content delivery system to produce live, face-to-face online classes, coordinate alumni relations and facilitate job search and placement. The breadth of its stack is fairly large. In the middle of it all is the nucleus of a technology platform that binds everything together and involves collaborative tools which look a lot more like Facebook than Blackboard or Sakai. It includes a mobile platform, iPhone and Android apps as a Salesforce.com platform that the company's CTO, James Kenigsberg, says is, "to die for."
How to Reach Out
2U uses Jobvite and connects to people's Facebook, LinkedIn and Twitter accounts. As a result it attracts a lot of friends and friends of friends of friends. It also tries to be active with tech-specific Meetups. The company works a lot with AngularJS, which is fairly new, so it frequents those meetups, as well as a variety of DevOps, Big Data and CRM groups. It also works closely with General Assembly, blogs as much as possible and encourages employees to invite their friends to visit the company. Says Kenigsberg: "Even if a position isn't open, we'd invite a good referral in to have a chat." "I definitely look for DevOps people because the great ones are hard to find," he says. "I'm always looking for AngularJS and Python developers. We try to automate a lot of what we do, so I'm interested in QA Automation folks. We do a lot of our back office work on Salesforce, so I hire often for those positions, whether they're administrators or Apex developers.
How to Navigate a Job Posting
If the job description says 2U wants someone "passionate," it's not a platitude. "We're looking for folks who are especially passionate about education technology," Kenigsberg stresses. "It's not just because we're in that industry. We're a team that truly believes in making great education happen and we really deliver some of the best education on the planet." "We want people who are interested in the specifics," he continues. "If you apply for a DevOps position, you can see that we are pretty much cloud born and raised and so it's important that you have a lot of experience in that area versus being a general IT person." 2U job descriptions have clarity, which is often a rarity nowadays. Kenigsberg wants candidates to read carefully and apply accordingly. Some recent needs include real experience with AWS and with Puppet and Jenkins.
The Interview Process
2U prefers group interviews. "Our teams are broken into areas of business because our technology is very much correlated to our business strategy," Kenigsberg explains. "I have an area of learning systems responsible for building learning tools. I have an area that's responsible for data and analytics. So if it's a developer interview, I'd usually invite our VP of development, our lead developer and somebody the candidate would work with, so they'd experience all three levels in our software development life cycle." The first part of any interview is highly technical. For the second interview, the team will focus on your work ethic and ask about issues relating to a variety of technical situations, coding standards and your involvement with any open projects. Being active on Github is a huge plus. It's the first place they may look for you after you apply. During the second wave of interviews the hiring group will usually include a project manager and a QA person. Also, you should know that Kenigsberg interviews every candidate, from general interns to members of his immediate team.
What Makes a Good Fit
When asked about the cultural fit, Kenigsberg starts to laugh. "We have a 'no asshole' policy here and I use that term because it's actually in our handbook," he says. "I need to see if a candidate is a jerk. Someone could be an amazing technologist but if they're a jerk it's sort of like introducing cancer to a healthy body." He takes a lot of personal responsibility to make sure disease doesn't infect the team. "We have an amazing work environment here," he believes, "and I've never, ever had to ask anyone to work extra hours. People enjoy their work and enjoy their lives and things just get done." Passion and its importance can't be emphasized enough. Kenigsberg says it doesn't matter what a candidate is passionate about. You may be into your Xbox, for example. If you're truly authentic, he'll know you have the capability for having passion for the work. "All I'd have to do is give you the bug," he says. "You'll understand the goal we're trying to achieve. Education is fast changing and anyone on my team is going to be in the front seat and personally responsible for making some of that change happen."
Advice for Seasoned Professionals
Because the team will want proof of the seriousness of your commitment, Github is a way in the door. Making your own code available for other people to use and contributing to user boards will make you stand out. Become active in Meetups. To Kenigsberg, involvement shows that you have an intellectual curiosity and excitement about the technology. He wants to find people that the team will have a lot in common with. "When a resume comes to my desk," he says." I want to see if you have a GitHub link that I can click on, or if you have a personal website with interesting projects on it that are outside of your job. That's the kind of stuff that grabs my attention."
Advice for New Graduates
Several of Kenigsberg's staff, many of whom have been promoted several times, started as interns. He recommends looking for a great internship, even while you're still in college. If you've graduated and are looking for a new opportunity, he repeats the mantra of involvement with open source projects. "Start coding," he says. "Don't wait for someone to start paying you for the work. You can build a parallel experience and have something to show us." If you're a project manager and it's not a coding experience, he wants candidates to come in and be honest and open, with the ability to explain what would make them great at the job. Don't be afraid to ask hard questions. "I've had people ask me to literally break down my business model and that impresses me because it's not generic," he says. "I want someone who can really get into it and have a conversation about the future of online education, the future of education in general and the future of online technology. I want to hear about what tools they used in college and how they would improve them. All of that will play in a new grad's favor."