[caption id="attachment_18051" align="aligncenter" width="546"]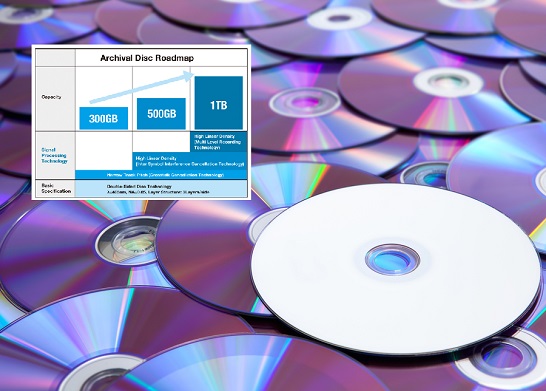 The Sony/Panasonic Archival Disc will be for professional use only.[/caption] Sony Corp.
and
Panasonic Corp.
have
developed specifications for an optical disk that is the same size as a Blue-ray disk, but will stay readable for 50 years and has space for 300GB of data... and eventually a full terabyte. The Archival Disc is designed for enterprise storage systems and won't be available until 2015,
according to an announcement from the companies.
Optical disks have become less popular for large-scale storage in corporate datacenters during the past few years due to the relatively low data capacities of each disk compared to hard drives, flash and other forms of storage,
according to market-research firm IDC.
The percentage of corporate data stored on optical disks dropped from 62 percent in 2000 to 38 percent in 2012, due to the inconvenience and slow speed of optical compared to hard drives, as well as the growth of broadband networks and streaming-media systems that allowed data to flow from overfilled storage facilities to those with available capacity. The increased use of
higher-performing flash storage
will push down the popularity of hard drives a bit during the next few years, but all the available storage media combined won't come close to matching the 16
zetabytes
of data that will comprise the "Digital Universe" by 2017, according to IDC's October 2013 study. Sony and Panasonic launched their joint effort to develop a practical,
next-generation Blue-ray disk in July 2013
after realizing disk capacities between 25GB and 100GB could no longer hack the demands of high-capacity storage systems. The initial goal was to produce disks ranging from 300GB to 1.5TB in capacity
by
2015, focusing on the market for long-term storage and archiving, both of which minimize the extra effort and latency required to shuffle dozens or hundreds of disks on which a corporate database might be stored. It also turned the comparatively inefficient form factor of optical disks to an advantage. Unlike spinning disks or flash, the storage surface of optical disks is protected by a layer of plastic from dust, temperature, humidity or other hazards. The casing around the upcoming Archival Disc format should make the disks readable for 50 years, according to the companies. The plastic coating does nothing to ensure either the data-storage formats used for Archival Discs or the format of the data itself will be
usable
after that amount of time, however. Linear tape-open technology (LTO) magnetic tape cartridges have more capacity per unit – up to 3TB per cartridge for Hewlett-Packard Co.'s LTO-5 Ultrim products, for example,
according to a March 10 story from the IDG News Service.
Tape is more fragile in both the long- and short-term than optical disks, with failure rates as high as 12 percent within three years, though the tapes could remain usable for between 10 years and 30 years,
according to one study.
The Sony/Panasonic disk is a scheduled to ship during the summer of 2015 at a capacity of 300GB, with two additional development stages that will boost capacity to 500GB and then 1TB. The companies supplied no timeline for those increases, however. It is possible the disks would be more popular with consumers lacking any affordable medium on which to store multi-gigabyte files with movies or high-resolution games, though the Sony/Panasonic announcement specifically discourages that expectation for their "new professional-use next-generation optical disc standard." "The development is specifically for professional archiving," IDG News Service quoted a Panasonic spokesperson saying. "We are not currently considering optical discs for household consumer use."
Image: Shutterstock.com/robtek