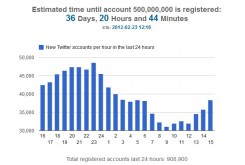 Twitter will reach 500 million accounts in February,
estimates
The Wall website. The Twitter microblogging platform was released on July 2006 by Jack Dorsey and rapidly gained popularity worldwide. By May 2011, Twitter reached 300 million accounts and generated 300 million tweets in the same period.
Right now
, there are at least 11 Twitter accounts created each second worldwide and a total of 466 million Twitter accounts. This is a 65 percent increase from May 2011. In September, Twitter announced that there are 100 million active accounts with the website receiving more than 400 million monthly unique visitors. Twitter CEO Dick Costolo said that Apple and their iOS integration is one of the main catalysts for Twitter. Since iOS 5 was released, Twitter almost tripled their signups. For 2013, Dick Costolo estimates nearly 750 million Twitter accounts. It will be interesting to find out how many of them will be spammers.