By Jennifer Goforth Gregory
While you may think of spring as the prime hackathon season, many innovative events are held in summer and early fall. Here are six that you should know about.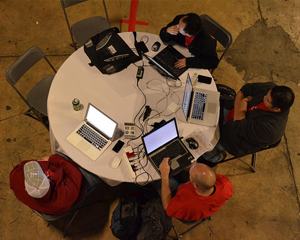 June 7 to June 8 New York, New York While many hackathons are male-dominated, Hack'N Jill's goal is for each of its efforts to include at least half female participants. Hack'N Jill hosted Hacksgiving last fall, which attracted over 51 percent female developers. The mission for all of Hack'N Jill's hackathons is to "create an environment where both genders feel comfortable to build cool things together." This group's summer hackathon promises the same inclusive environment, and will focus on creating apps around summertime fun in the Big Apple with an emphasis on food, fitness, music and travel.
June 15 to June 16 Sporting Park, Kansas City, Kansas Who says the only cool hackathons are in NYC or San Francisco? Grab up five of your colleagues and develop an application using one of this event's sponsors' API's in 24 hours. Based on the API selected, you compete for prizes including an iPad mini, $500 in cash, $500 in streaming services or $100 in Amazon gift cards. Prizes will also be offered for teams who develop a project using an API other than a sponsor's. Last year's Hack the Midwest saw over 100 participants and 28 submissions.
June 22 to June 23 New York, New York Developers with expertise or interest in healthcare technology should head to the 36-hour HealthHack NYC, sponsored by Happtique and the Application Developers Alliance. The purpose is to encourage the creation of applications furthering health and wellness. Prizes include cash and free tickets to Happtique's Health App Certification Program.
Last Saturday of Every Month, Next Hackathon June 29 New York, New York Spend your Saturday afternoon working alongside other developers, artists and musicians to create music related projects. At 1 p.m., a music and technology discussion is held (past topics have included Jazz & Technology and Hacking Music and Audio Research). At 8 p.m., a concert and the day's creations are presented to hackers and the general public. The hackathons are free and open to anyone interested, but organizers request an RSVP.
Sept. 7 to Sept. 8 San Francisco, California Similar to the well-heralded Disrupt NY hackathon held in May, the Disrupt SF, sponsored by TechCruch, promises a weekend of competition, speakers and networking opportunities. Thirty-minute API workshops will be held on Saturday afternoon. Tickets are available in limited quantities for anyone wanting to watch the presentations, but not compete. You can keep on top of the latest news for Disrupt SF by following @hackdisrupt.
September 30 Las Vegas, Nevada Develop Splunk-based projects that effectively use machine data. Since the hackathon is the day after the .conf2013, both conference attendees and locals can attend the event. Developers at any level of skills with Splunk, the REST APIs and SDKs are invited to compete for the titles of "Best Application" and "Best Application for Social Impact."
Jennifer Gregory specializes in writing about technology and small business. In addition to having a Masters degree in technical writing, she's worked as a technical writer for both small and large software companies, including IBM. She also served as a project manager and user-interface designer for both IT systems and software projects.