Activision Blizzard's employee diversity is "wholly inadequate," according to its COO. The gaming giant's latest diversity report found that roughly a quarter of its global workforce self-identifies as women, while 36 percent identifies as a member of an "underrepresented ethnic group."
The diversity report drops at an auspicious time for the company, which faces a variety of lawsuits and investigations over allegations of sexual harassment and gender discrimination. The California Department of Fair Employment and Housing, for example, is investigating employees' claims of discriminatory hiring practices and an abusive culture, and the Equal Employment Opportunity Commission ordered the company to establish an $18 million fund to compensate victims.
Last month, more than 800 employees signed a petition demanding that CEO Bobby Kotick resign over the overlapping crises. Microsoft/Xbox is reportedly evaluating its relationship with Activision Blizzard, with Xbox head Phil Spencer stating he was "disturbed and deeply troubled by the horrific events and actions."
According to the Activision Blizzard diversity report, women make up around 24 percent of the overall headcount, and 23 percent of managers. Women constitute 29 percent of the company's new hires and 26 percent of its departures. The company is publicly committing to increase the percentage by 50 percent within the next five years (or sooner).
Meanwhile, employees from underrepresented ethnic groups were 36 percent of the overall workforce, and 36 percent of managers. Some 40 percent of hires were from these groups, along with 37 percent of departures.
Here's the diversity report's chart with a division-by-division breakdown: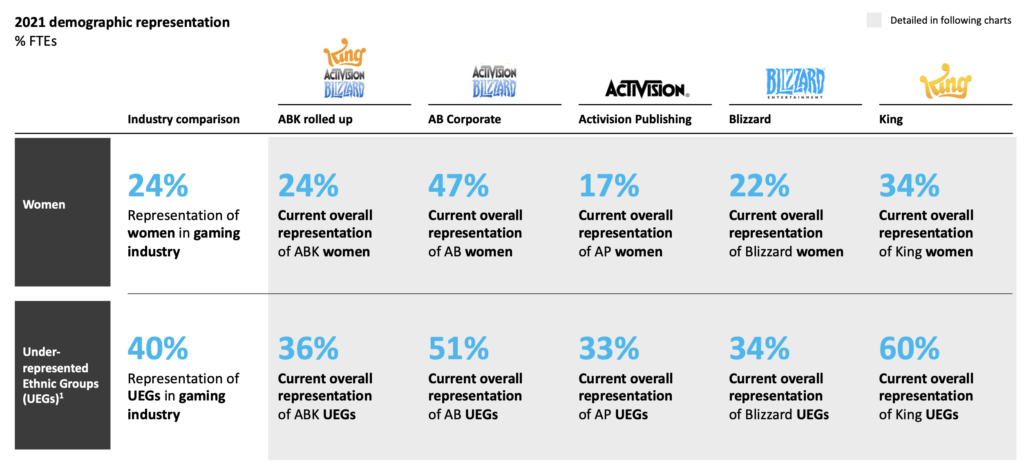 "While representation company-wide is similar to our peer gaming companies in the United States, this is wholly inadequate in my mind. We will do better," COO Daniel Alegre wrote in a statement accompanying the report's release. "We have a lot of work to do as we build an organization where diversity is as much a core value as innovation."
What will that work entail? Activision Blizzard claims it will put "DE&I leaders" in place throughout the company, and tie diversity goals into broader performance goals. It's also promising a portfolio of training, development, mentorship, and recruiting programs. In many ways, these steps echo what other tech companies are doing to boost diversity—and if those companies' track records are any indication, it could take years to see a resulting swing in workforce-diversity numbers.