[caption id="attachment_145163" align="aligncenter" width="2718"]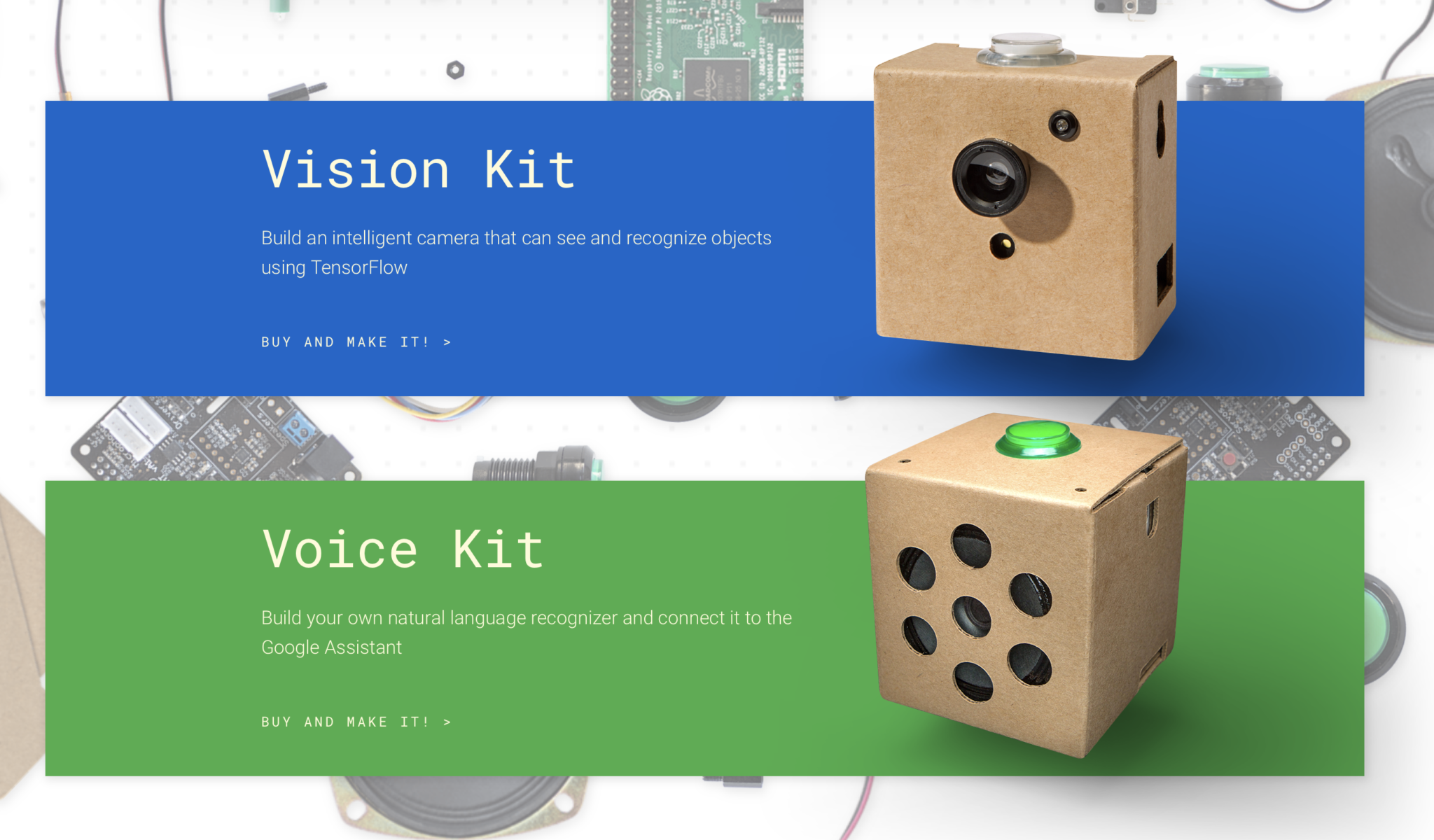 Google Vision Voice Kit A.I.[/caption] As we
make our way through the brave new world
of artificial intelligence (A.I.), it seems fitting that some company would create a bespoke kit for creating your very own SkyNet. Google has done just that with its new
AIY
kits. AIY is a play on A.I. and DIY (or 'Do It Yourself'). The outer package resembles Google Cardboard, the company's ultra-cheap VR headset; the kits come with all the wiring you'll need, and a Raspberry Pi to power things along. Google has AIY kits for both vision and voice.
Vision Kit
"lets you build an image recognition device that can see and identify objects."
Powered by
TensorFlow's machine learning models, Google says you need little more than a Raspberry Pi Zero W board and Camera 2 alongside a blank SD card. (It also promises an Android app is in the offing to help you manage all the things it can do.) Vision Kit has 13 components: in addition to the board, camera and SD card, the cardboard housing is included. There's also some wiring, a Piezo buzzer, an "arcade button" and a privacy LED. All told, it's enough to make Vision Kit useful as a passive monitor or dedicated recognition device.
Voice Kit
is meant for Google Assistant. "Along with everything the Google Assistant already does, you can add your own question and answer pairs," writes Google. Much like Vision Kit, Voice Kit has a cardboard housing and various components (such as a mic and speaker, naturally) to get you up and running. Both kits come with a nicely laid-out assembly guide. 'Why' is the most common question with these types of products, but it's easy to see what's going on here. While robust, both TensorFlow and the Google Assistant have glaring limitations. Instead of fielding complaints, Google is empowering those interested to do something about it. This could also prove useful for niche, private features. It's easy to see how a Vision Kit could be trained to recognize employees, unlock the door and spit out a 'good morning, (name of employee)' as they entered. Vision Kit and Voice Kit may not be good solutions for every scenario, but they're probably very capable training models. Google is promising more kits are on their way, though it's not divulging what may be in the offing. Curiously, Voice Kit can tap into 'Android Things,' Google's oft-forgotten IoT platform for mobile. If that's not your speed, Google has defaulted to Raspbian Linux as its platform. Should you be interested in using Voice and Vision Kits in unison, Raspbian is likely your best bet, as Vision has no Android Things compatibility.