Welcome to your weekend, the best two days of your entire week. Now is when you get to forget the tedium of meetings and code and user feedback, and catch up on Alexa, augmented reality (AR), and cryptocurrency killing services.
Yes, it's been a weird week in tech, so let's get to it!
Alexa Everywhere is a Terrible Idea
Where to begin with all this mess…
So, Amazon held its sorta-kinda-annual hardware event for Echo, and wow did it back the dump-truck up and unload a ton of garbage on us. Here's a quick list of all the new or upgraded Alexa stuff Amazon brought us:
If there's a winner in this wild bunch, it's Echo Buds' noise reduction feature. It's not quite noise cancelling, because that essentially requires over-ear headphones to completely drown out ambient noise, but it's a really handy feature for earbuds, and especially impressive for wireless buds. It's likely a preview of what Apple will introduce with new AirPods, whenever those land.
The dumbest of the bunch is probably the Echo Loop, which is a bulky ring you talk to if you want to query Alexa... then hold up to your ear to hear the response. Imagine how cool you'll look whispering into your hand, then listening to your finger tell you what info it found in the cloud for you.
Echo Frames are also silly, and every review we've seen points out how they feel very cheap, suggesting Amazon isn't truly invested in these products (or at least this version of them). It's all more spaghetti against the wall. Unfortunately, it's also all spyware, so steer clear.
Augmented Reality Glasses Taking Shape
Facebook and Amazon have smart glasses coming, and each take different approaches to this burgeoning technology category. But let's not mince words: the only smart glasses we care to see are Apple's. New details on the mysterious glasses suggests they could be a massive hit.
There are apparently three unique versions of the Apple headset in testing, with field-of-views up to 68 degrees. A patent spotted by UploadVR suggests this could be directly relevant to an acquisition Apple made in 2018. It also points out Apple's AR frames may have a larger field of view than either HoloLens or the Magic Leap One, which would be an impressive feat for discreet eyewear.
And if you're wondering what's taking so long, it seems the technology is actually really complicated. From UploadVR:
The system described in the patent is rather complex. A laser array projector emits light into entrance points of an optical "distribution" waveguide. This waveguide then passes the light to exit points which lead to MEMS scanning mirrors. These entrance and exit points can either be implemented using holographic film or as surface relief gratings via lithographic techniques. The MEMS mirrors then direct the light into layered waveguides, where holographic projectors project it at a "focus curve" which reflects into a holographic combiner.
Lost? Yeah, it's difficult. Here's a pic: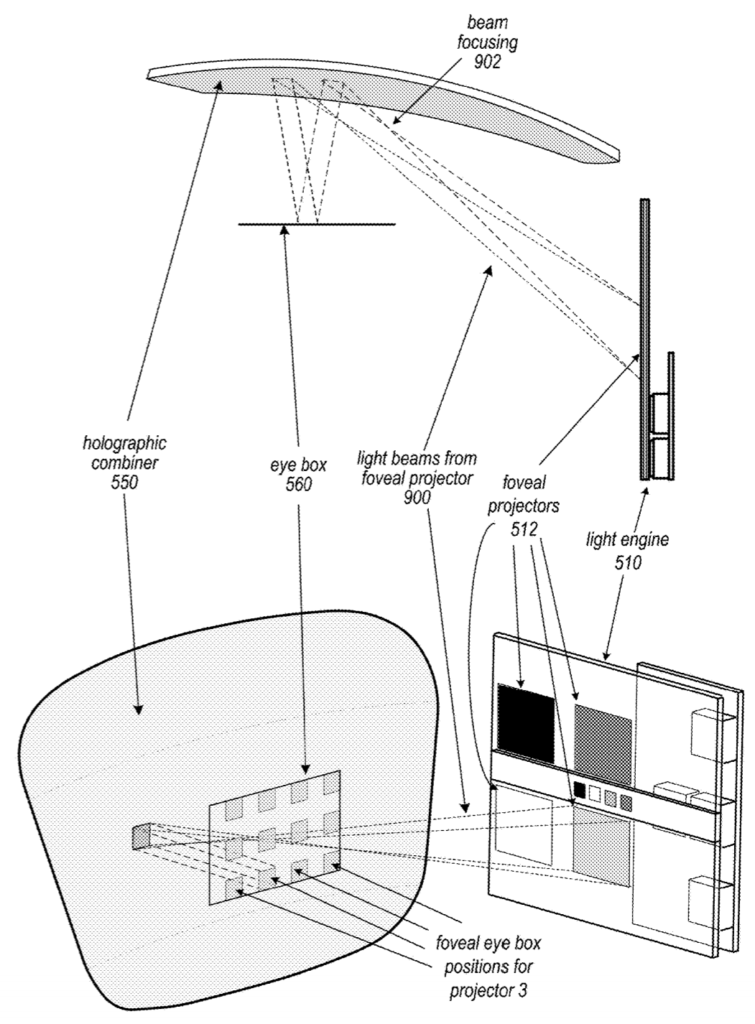 We would still like to see these glasses land at Apple's Spring event, or maybe at WWDC, but they sound really complex, and may not be ready for prime time yet.
App Store Wars Heating Up on New Ground
Apple Arcade has landed, and carries an interesting caveat for developers: the available games must remain exclusive to Apple Arcade... for mobile. You can port your title to Nintendo Switch or another console, but not Android.
Google introduced the Play Pass this week, a $4.99 all-encompassing subscription that will have 350 apps and games available to subscribers. This is a lot more like Setapp than Arcade; Play Pass is essentially a collection of older, also-ran, and second-tier apps (I mean, it has Monument Valley, which is awesome, but Monument Valley is old).
Play Pass removes ads, in-app purchases, and paywalls. It's probably great if you already have a few apps you subscribe to that are included in the service, but based on the existing portfolio, Google doesn't seem enamored with (or committed to) Play Pass.
Kik'd to the Curb
Kik, a surprisingly popular messaging service, is being killed so its parent company can focus on its Kin cryptocurrency. The move comes after Kik raised $100 million in an ICO for Kin, which the SEC alleges used unregistered securities. In lay-terms, the SEC says the $100 million invested was vaporware, and there's no actual value to Kin.
Kik CEO Ted Livinston calls Kin a "utility" token, meaning it's a lot like buying bespoke in-app currency. This seems as though Kik wants Kin to be a sort of de facto currency for developers and platforms to use in their own services, which is sort of the fever dream of crypto: too many unique currencies with no trade value back-and-forth.
Kik laid off 100 people, and now has a 19-person squad dedicated to "converting Kin users into Kin buyers." Best of luck.
Enjoy your Weekend!