Barnes and Noble will
announce a new Nook e-reader
later this month. Since the bookseller recently announced the Froyo upgrade to the Nook Color, it may be re-developing an inexpensive e-ink reader to better compete with Amazon's third-generation Kindle.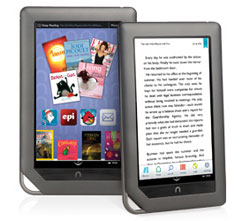 Or it may be dropping the e-ink device and introducing a higher end Nook Color, which has proven to be a well-priced tablet in its own right. The Nook Color, though less powerful than other tablets, has largely succeeded on its price. A recent software upgrade and a small app store of its own, plus a $249 price tag, have made it an attractive entry level device. Of course, enthusiasts hacked the device when it was first released and accessed the Android App stored for tens of thousands of apps. This includes the Kindle (sorry, B&N), which renders nicely. The addition of an app store revalues existing e-reader with more features though unlike on the jailbroken Nook, the Kindle app isn't one of them. Speaking of Kindle, Amazon will release a tablet of its own in the second half of 2011. Earlier, I
wrote that Amazon may price
it aggressively because the retailer makes more money from the stuff it sells through the device, rather than the device itself. Its entry price might be $199. So where does that leave the e-ink Kindle? Some speculate that it will be
free by the end of the year
, mimicking the cell phone model. What may be more likely is the Kindle will be free to all Amazon Prime customers. So far, though, the year of the tablet is still the year of the promise.