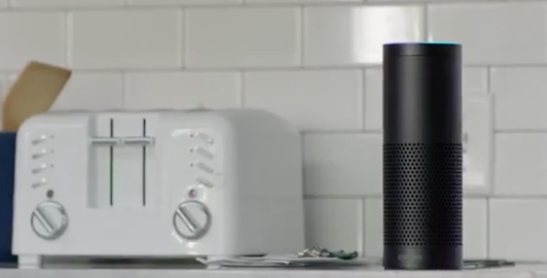 Imagine a device in your home that passively listens to everything you say. In past decades, you might have called such a device a "bug," and it was probably installed without your knowledge. But in the brave new world of 2014, this device is called
Amazon
Echo, and it's apparently here to help.
Click here to find mobile-development jobs.
Echo is a black cylinder that can go pretty much anywhere in a house or apartment, and responds to a variety of queries. You can ask it about the weather, or a trivia question, and receive a reply; you can tell it to add items to a shopping list, and it does so; you can order it to play music, which the built-in speaker will blast at appropriate volume. The device is plugged in; an accompanying app for smartphones will allow users to manage shopping lists, music, alarms, and more through a specialized dashboard. "Echo's brain is in the cloud, running on Amazon Web Services so it continually learns and adds more functionality over time,"
reads Amazon's copy on the product
. "The more you use Echo, the more it adapts to your speech patterns, vocabulary, and personal preferences." The consumer-tech world has been down this road before, of course.
Apple's
Siri digital assistant responds to vocal commands; Google Now will answer spoken queries. The companies building these cloud-based, voice-activated platforms claim the software becomes more sophisticated as users make more queries. But voice has yet to catch on as a default means of input. In late 2013, for example, one poll suggested that 85 percent of those
who owned an iOS device had never used Siri
.
Upload Your ResumeEmployers want candidates like you. Upload your resume. Show them you're awesome.
For Amazon fans and customers, the appearance of Echo on the heels of the
Fire Phone's high-profile failure
might lead to concerns that the company is spreading itself too thin. Amazon dominates the online-retail market, and
Amazon Web Services (AWS)
powers many a company's cloud, but that's evidently not enough for CEO Jeff Bezos: He seems to want to rule the device market, as well. But while Amazon's Kindle e-readers and Fire tablets drew users, Amazon had to take a massive write-down on the Fire Phone. Echo isn't a bet-the-company initiative, but if it fails to gain marketplace traction, it could increase the calls for Amazon to focus on what it does best.
Related Articles
Image: Amazon