Word on the street is that
Amazon
is hiring IT professionals, as it ramps up its Kindle research and development efforts. According to
Good E-Reader
, Amazon is working on a full color e-reader with a six-inch screen, similar to the resolution offered with its existing Kindles.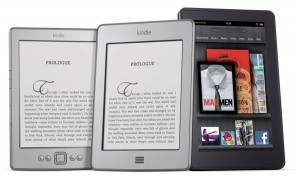 Some of the positions Amazon is seeking to fill include
process quality engineer
,
product test engineer
,
process development engineer
,
product development manager
, and an Asia-based
operations program manager
. The new senior level positions will be at Amazon's subsidiary Liquavista, with some of the jobs devoted to development and others related to production. The new product development manager is expected to work with Lab126, Amazon's research and development arm. Amazon bought Liquavista from
Samsung
in May. Liquavista is known for its technology that allows e-readers to use a lower level of power than previous generations of e-readers. It also makes displays that are easier to view in all lighting conditions. The new Kindle could be available as early as this year.
Lab126 is also hiring
software engineers,
program
and
product managers
, and a
hardware development engineer
. Lab126 designs and engineers consumer electronic devices like the Kindle family of products.