Amazon has reportedly tested a new wireless network
for connecting its devices to the Internet, a move that may hint at more hiring for wireless and telecom-related jobs at the e-commerce giant.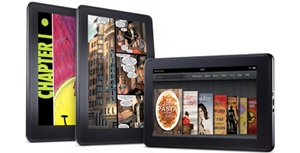 The tests reportedly took place near Cupertino, Calif., where
Amazon
is
rapidly expanding its Lab126
. The company has posted nearly 150 open positions at the lab focused on research and development for the Kindle line, including some suggesting more work on connectivity, such as posts for a Senior Antenna Design Engineer, Senior RF Systems Engineer and software developers in wireless. The Jarvinian Wireless Innovation Fund conducted the tests for Amazon using spectrum, owned by satellite communications company Globalstar. Globalstar wants to convert its spectrum to terrestrial use and is considering leasing it, sharing service revenues with partners, and other business models, according to
Bloomberg
. In terrestrial use, Globalstar wants to launch a "Terrestrial Low Power Service" (TLPS) that it says will be faster than current Wi-Fi. The company has a two-year experimental license with the FCC to ensure it will not interfere with other networks. In a July 1 letter to the U.S. Federal Communications Commission, Jarvinian Managing Director John Dooley said it was helping "a major technology company assess the
significant performance benefits of TLPS
for a transformative consumer broadband application." Globalstar is touting TLPS as being highly compatible with existing Wi-Fi equipment. Amazon's not the only company looking into providing connectivity. Google has built out a high-speed fiber network serving 17 cities. It operates a Wi-Fi network in Mountain View, Calif., and recently announced it would provide wireless service to
Starbucks
locations.