[caption id="attachment_16726" align="aligncenter" width="397"]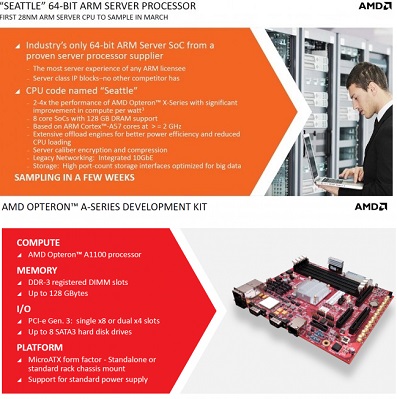 AMD laid out its new Seattle server SoC and sample board for OEMs.[/caption] There have been three big surprises at this week's Open Compute Summit (OCS) in San Jose, Calif. On Jan. 27,
Microsoft announced it would release plans for its server designs
when it joins the group, which Facebook launched three years ago as a forum for mega-scale datacenter owners to develop more efficient ways to manage ever-growing server farms. The second surprise was the unannounced appearance of Facebook founder Mark Zuckerburg at the conference, who gloated a bit over the $1.2 billion Facebook saved designing its own hardware and using efficient-datacenter operations techniques developed through OCS: savings that amounted to
reductions of 24 percent in the cost
of maintaining its datacenters. "Facebook has always been a systems company," Zuckerberg said during his presentation,
which is available on video here.
Among Facebook's major datacenter-management accomplishments, according to Zuckerburg, was the decision to pursue
low-power designs that saved enough energy
to power 40 million homes, as well as reduced carbon emissions "equivalent to taking 50,000 cars off the road for a year," he said. Facebook VP of infrastructure Jay Parikh also took the stage to go into more detail about the global infrastructure optimization policies that led to much of those savings. A video of the talk, which lays out Facebook's evolution toward high-efficiency datacenter designs features Parikh, Facebook director of hardware engineering Matt Corddry, and Facebook Design Engineer Marco Magarelli
is available here.
The third surprise was the introduction by AMD of the first versions of
"Seattle," the 64-bit ARM-based server CPU AMD promised in late 2011.
Seattle is a system-on-a chip (SoC) based on AMD's Cortex-A57 architecture and will support either four or eight CPU cores. The sample board circulated to OEMs includes the 28-nanometer Seattle, plus a chipset that supports up to 4MB of shared L2 cache and 8MB of shared L3 cache, supports up to 4 memory slots, 8 lanes of PCI-Express, 8 serial ATA ports and two 10Gbit/sec Ethernet ports. Though Intel Corp. has an almost unassailable lead in server processors right now, AMD execs think they can make the market competitive with the new server chips, according to Andrew Feldman, corporate vice president and general manager of AMD's server business unit, who led the presentation. "In the history of compute, smaller lower-priced CPUs have always won," he said, adding that ARM CPUs will play a
"monstrous role" in datacenters of the near future,
perhaps reaching market share of 25 percent or more by 2019. AMD's share of the server-CPU market has declined from about 15 percent in 2007 to 4.4 percent during 2012. Intel currently holds approximately 95 percent of the server-processor market.
Image: AMD