[caption id="attachment_4008" align="aligncenter" width="618"]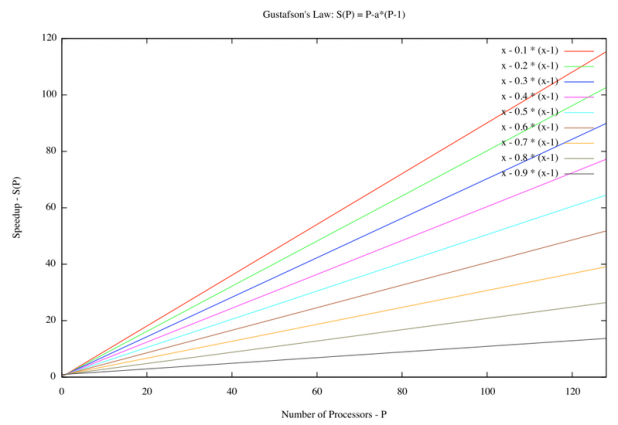 John Gustafson, chief product architect of AMD's Graphics Business Unit, is known for Gustafson's Law, which addresses the parallelization of large data sets.[/caption] AMD's chief technical officer, Mark Papermaster, said Aug. 29 that graphics would be AMD's key to attacking heterogenous computing, even as the company backed up his statement by nabbing a key exec from rival Intel to lead the team. AMD named John Gustafson as senior fellow and chief product architect of AMD's Graphics Business Unit, the former ATI graphics business unit. Gustafson, known for developing a key axiom governing parallel processing, will apply that knowledge to AMD's more traditional graphics units and GPGPUs, co-processors that have begun appearing in high-performance computing (HPC) systems to add more computational oomph via parallel processing. Papermaster, for his part, has now served for a year as AMD's CTO, after stints at IBM and Apple.
In an earlier interview
, AMD's new server chief, Suresh Gopalakrishnan, explained where AMD had gone wrong and the business steps needed to restore the company to its former prominence. He also mentioned bringing AMD's APUs—a combined CPU and graphics core for desktop and mobile PCs—to AMD's enterprise Opteron line. Papermaster provided a more comprehensive look at AMD's future in the data center, claiming that APUs were the keystone of the "surround computing era," where a wealth of data—through sensors, gestures, voice, augmented reality, metadata, and HD video and graphics—will need to be contextualized, analyzed, and either encrypted or assigned privacy policies. That, of course, means the cloud must shoulder the computational burden. "We look at APUs as the natural engine to start this move to heterogenous computing, to start this acceleration, of bringing a capability, an infrastructure, to support this surround-compute era. Because it is a breakthrough enabler," Papermaster told the Hot Chips conference in Cupertino, Calif. AMD has already shipped over 30 million APUs, he added. By 2016, IDC's forecasts show a demand for more than 10 million servers—many, if not all of them, needing an AMD graphics chip. "We've been at this for some time, and what you'll see us doing this now is take the next step, and have the heterogenous APUs line up with the system architecture and provide that hardware, provide the... optimization that can bring the programming community, that leverage," Papermaster said. "And the APU will be the platform of choice for acceleration." Some development still needs to take place in order for that to happen, however. In June, AMD helped form the Heterogenous System Architecture Foundation, combining AMD, ARM, Imagination Technologies, MediaTek Inc. and Texas Instruments. The Foundation seeks to "unlock" accelerators such as GPUs to third-party software, but needs to create an API to do so. Papermaster told
EETimes
that the timeframe for a first draft is still months away. Papermaster also said that AMD will push its so-called "Freedom Fabric" into the Opteron space during the second half of the year. The 1.28 Terabits/sec fabric, which AMD acquired from SeaMicro, will provide the compute nodes a high-throughput highway to connect CPUs and APUs alike. Leading the charge will be Gustafson, whom Papermaster did not mention in his presentation. Gustafson will be responsible for overseeing the Radeon PC and FirePro enterprise/workstation product lines. He recently headed Intel's eXtreme Technologies Lab, conducting cutting-edge research on energy-efficient computing and memory as well as optical, energy and storage technologies. Prior to that, he served as CEO at Massively Parallel Technologies and CTO at ClearSpeed Technology, a high-performance computing company, Intel said. Gustafson is known for
Gustafson's Law
, which addresses the parallelization of large data sets. "I look forward to working with my teams to expand the AMD graphics technology roadmap," Gustafson wrote in a statement. "The next decade will serve as a watershed era for GPUs in graphics rendering power and compute capabilities, creating the opportunity for multi-teraFLOPS APUs." In terms of raw performance, he added, "the evolution of discrete graphics has far exceeded that of the CPU, and the programmable characteristics of today's GPUs have thrown open a door that could very well see it rival the CPU as the most critical element of computer performance in the near future."
Image:

Peahihawaii

/Wikipedia