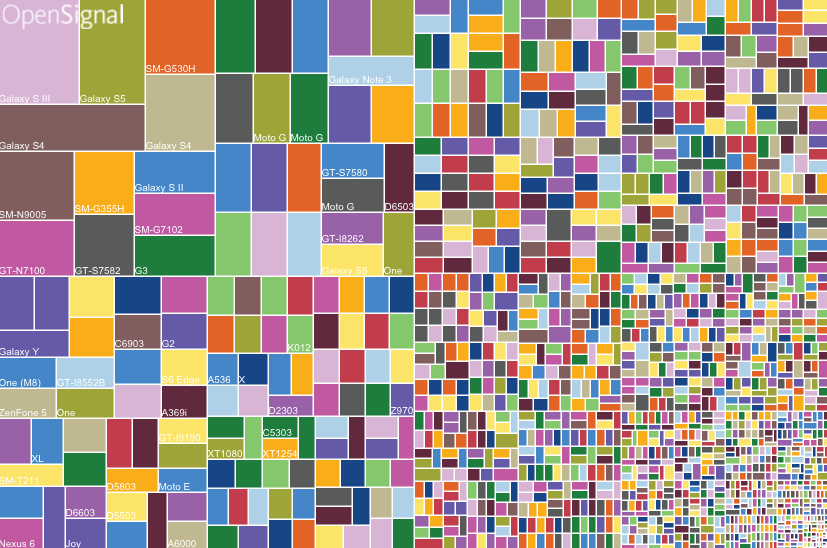 Do you develop apps for
Android
? Are you concerned over the fragmentation of the platform? Those concerns clearly aren't going away anytime soon: According to a new visualization from OpenSignal, which produces an annual Android fragmentation report, there are 24,093 distinct devices running Android (up from 18,796 last year), built by 1,294 brands. "There are many different versions of Android that are concurrently active at any one time, adding another level of fragmentation,"
the report added
. "What this means is that developing apps that work across the whole range of Android devices can be extremely challenging and time-consuming."
Check out the latest Android-developer jobs.
For consumers, fragmentation isn't the worst thing: No matter what your needs, you can probably find an Android device that will fulfill them. But for developers, trying to build an Android app becomes that much harder when there's a wide variety of screen sizes, hardware configurations, and even Android versions. Based on OpenSignal's data, some 39.3 percent of Android devices run KitKat, or Android version 4.4. Only 2.6 percent run Android 5.1 ("Lollipop"), the absolute latest version. A sizable percentage of devices continue to rely on Android 4.1-4.3 ("Jellybean"), which came out in 2012. Contrast that with the comparatively tight ecosystem for
Apple's
iPhones and iPads, in which 85 percent of devices run
iOS 8
, the latest version. Given Android's prevalence among mobile devices, it seems unlikely that developers will stop building for it. But those who do will likely need to think long and hard about how they'll tackle the fragmentation issue.