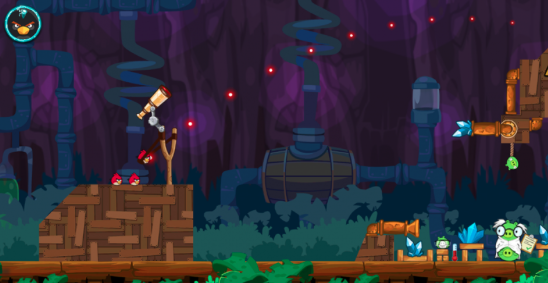 Rovio Entertainment, the studio behind the mobile-game hit
Angry Birds
, has announced that it
will lay off 110 workers
, or approximately 14 percent of its workforce, as part of a game-studio shutdown. Four years ago, the idea of Rovio cutting workers and consolidating its operations might have come off as a joke. Originally released in 2009,
Angry Birds
quickly grew from popular mobile game to pop-culture franchise, spawning not only a handful of branded spinoffs (
Angry Birds Star Wars
,
Angry Birds Rio
, etc.) but also merchandise, cartoons, and even an upcoming animated movie.
Click here to find mobile-game-developer jobs.
Despite that runaway success, however, Rovio faced the same conundrum confronting other developers in the mobile space: Sooner or later, another app or game will eventually eclipse your product in popularity. With games, one of the most popular (and thus, one of the most competitive) categories for smartphone and tablet apps, this overshadowing is inevitable. Once the app begins its slow tumble down the charts, the developer must hope that its Next Big Thing—whether a sequel, or a completely new bit of intellectual property—can replicate its predecessor's success to an acceptable degree. Rovio never came up with that next big hit, and now it's faced with some stark choices on the personnel front. It's one thing for an independent developer to create a single product that does well; once the popularity fades, that individual or small group can easily go off and do something else. But a major software firm that relies too much on a one-hit wonder to make its annual numbers is one that inevitably faces danger down the road. Call it the downside of creating a blockbuster.
Upload Your ResumeEmployers want candidates like you. Upload your resume. Show them you're awesome.
Related Articles
Image: Rovio Entertainment